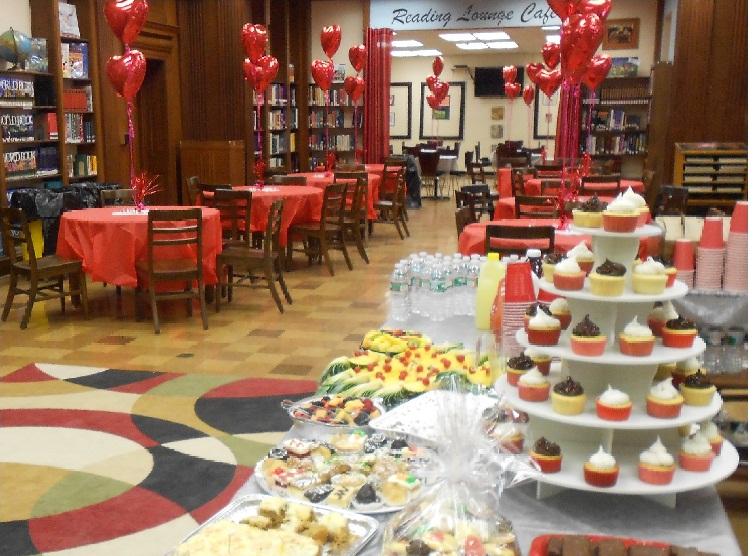 The HHS PTO transformed the Library Media Center into a festive restaurant on January 31, 2014. Hosting the annual Faculty Appreciation Luncheon, PTO moms offered teachers and staff a delicious buffet brunch with a varied menu of homemade specialties.
Luncheon chairperson, Elaine Tolomeo, said that "it's important that we give back to the staff for all they do for our students, making Hawthorne High School some place special for our students to excel. We appreciate that."  Spanish Teacher Rocio Martinez gave that appreciation right back to the PTO saying, "It made me feel appreciated as a teacher. It made my Friday!" Science teacher Amy Miller agreed, adding, "It was so delicious I wanted the have thirds and fourths, but I didn't dare."
The set-up crew (Barbara Reina, Elaine Tolomeo, Cheryl Siracusa, and Beth Savino) arrived early to decorate the library and then unwrap and present the foods all donated by PTO members.
With a menu too long to list in its entirety, a glimpse at the fare offered includes:  salad selections with green salad by Chef Vitagliano, pasta salads by Chefs Mascis and Vitagliano, as well as Chinese salad by Chef Shuart and pasta spinach salad by Chef Reina. Main course items included chicken parmigiana lasagna by Chef Grootenboer, egg cheese casserole by Chef Provencher, assorted quiches by Chefs Grofsick and Mascis, peach French toast by Chef Van Olden, and mini hotdog twist with sausages by Chef Milbrook. Scrumptious desserts included raspberry crumb cake by Chef Stroh, ricotta cookies by Chef Siracusa, crumb cake by Chef Weisz, ambrosia by Chef Tolomeo, fruit salads by Chefs Putz, Stroh and Hampson, and cupcakes by HHS Culinary Art students.
"