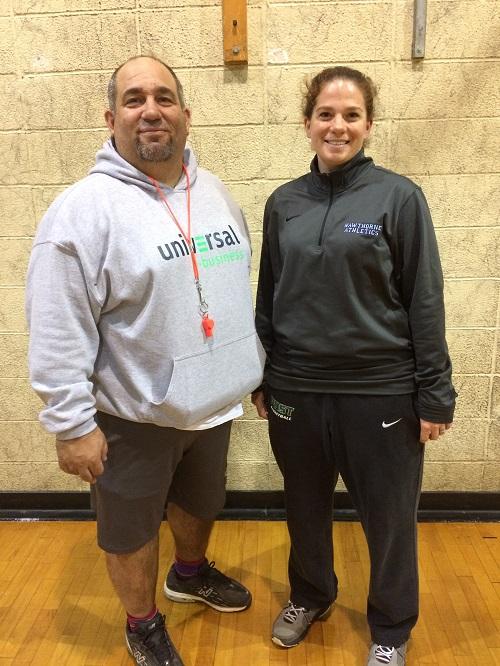 Kieran Mc Allister
As the Girls Basketball season approaches, the girls had the opportunity to meet their new coach, Ed Iannacone. After Coach Jaclyn Peene stepped down from the position, he decided to come into the new year to make the team stronger than ever. The Clarion was able to ask Coach Iannacone a few questions.
Clarion Reporter: Do you have a history playing basketball?
Coach Iannacone: I did play in high school. I missed my  senior season after dislocating my shoulder in our state football game against Hawthorne.
Clarion Reporter: How long have you been a basketball coach?
Coach Iannacone: This will be my 14th season coaching girls basketball.
Clarion Reporter: Do you coach any other sports?
Coach Iannacone: I have been the varsity softball coach at Ridgefield Park for 12 years. I also help coach my daughter in softball and soccer here in town.
Clarion Reporter: What are your expectations for this team this year?
Coach Iannacone: I come in open minded, being the JV coach is not about winning. Winning is nice, but helping the girls reach new levels and improving the program is the ultimate goal.
Clarion Reporter: What do you think you can bring to this team?
Coach Iannacone: Being new to the system, I hope to help get the girls on JV better so that one day they can be a contributing member for the varsity and  Coach Lane. I would also like to bring the experience that I have coaching and help the varsity get better everyday in anyway possible.
Clarion Reporter: Will you bring life lessons to the court?
Coach Iannacone: I strive to have a lasting impact on my players, not only making them better basketball players, but to make them better leaders for the Hawthorne community.
The girls believe Coach Iannacone will help them have another successful year of basketball and so does Head Coach Megan Lane. She says, "I feel excited to have Coach Iannacone on the bench this year with us.  He has a wealth of experience and knowledge in coaching and I'm really looking forward to seeing the impact he will have on our program."
On behalf of The Clarion, we wish Coach Iannacone the best of luck as well as the girl's basketball team.