Alum Giancarlo DiLonardo: A Young Man with a Bright Future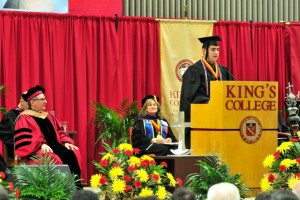 HHS graduate Giancarlo DiLonardo (2008) will be graduating in May from King's College in Wilkes-Barre, Pennsylvania.
DiLonardo will graduate with three majors: Political Science, History, and Sociology. This is amazing, especially considering all his activities. DiLonardo is the Student Government President at King's; he is also the Resident Assistant who takes responsibility for about 50 students on his floor. He recently completed an internship with a non-profit organization, the Commission on Economic Opportunity. "I helped people receive funds to help heat their homes during the winter," said DiLonardo.
In August, DiLonardo will begin a year of service with AmeriCorps in Phoenix, Arizona. He will be working at a house of hospitality for homeless men and women called the Andre House. "Having previously gone to the Andre House on alternative break trips during my time at King's, I am familiar with the work I will be doing," said DiLonardo. "I will be one of six full-time AmeriCorps volunteers who will be serving dinner six nights per week, running a clothing closet, accepting donations, and assisting in other functions of the hospitality center." Every day at Andre House is different; DiLonardo is looking forward to be working with men and women who carry all of their possessions on their backs.
DiLonardo says that education at HHS gave him the foundation required to be a four-year member of the Honors Program at King's College. "I have been as prepared, if not more prepared, for the work I have done these past four years than anyone else I have gone to college with. I believe that getting a chance to have teachers such as Ms. Atkinson-Battista, Mrs. Niznik, and Mrs. DiGeronimo who challenged me to be better than my peers has helped me to succeed. I also give a lot of credit to Ms. Atkinson-Battista for helping me realize my love of service and commitment to helping those less fortunate than myself," said DiLonardo.
DiLonardo leaves some advice for all high school students: "I hope that everyone at Hawthorne High School realizes that hard work and dedication to what you are doing are the only real ways to succeed. I hope that every single person at HHS takes advantage of the countless opportunities available to them."