Alum Bill Hook: Living His Dream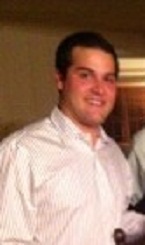 Most people can only dream they will be able to do what they love every single day, but for 2003 HHS alumnus, Bill Hook, this dream is a reality. Hook is responsible for managing the golf operation at Knickerbocker Country Club, which means it is his job to put together a staff and run the day-to-day operations for all golf-related activities.  These activities include outings, tournaments, instructions, etc.; he runs it all.  Hook also owns the Pro Shop; this means he handles all the buying, displaying, and selling of equipment, apparel, and accessories.
Hook is very passionate about his job.  He stated, "It's a great feeling to call the golf course my office and constantly be on my feet interacting with people with the common ground of 'We all love golf.'" He loves that he is able to interact and talk with others about the game of golf.  He can't even imagine himself in another occupation.  "All in all," said Hook, "the reason I do what I do is because I love the game of golf and couldn't picture myself doing anything else."
Hook was a notable golfer on the HHS team, winning many honors and titles, before he graduated in 2003.  From there, he attended Penn State University where he majored in recreation park and tourism management (his concentration was professional golf management) and minored in business.  He graduated from Penn State University in 2007, and went to work at the Ridgewood Country Club before he moved on to Knickerbocker Country Club.
Hook is thankful for the education he received at HHS.  Hook stated, "I learned the value of hard work that was instilled in me from a few special teachers at HHS and that set me up to get into a good school and continue to work hard for what I wanted."  Hook says, "Most of all enjoy your time in high school and college, have fun and experience all of it, because once you get into the real world there is no going back."