Alum Nicholas Schroter: Law Clerk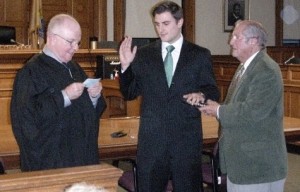 Nick Schroter, (2004) has left HHS to become a law clerk to Bruno Mongiardo, Judge of the Superior Court in Passaic County.  His hard work and dedication in high school was a reason for being as successful as he is today.
 "As his clerk, I am responsible for performing research, making recommendations, and mediating landlord-tenant and small claims matters," Schroter explained. "Most importantly though, he [Bruno Mongiardo] is a great mentor and we get along on a personal level." Schroter said that he enjoys handling pro se litigants (people who choose to speak on their own behalf in court rather than hire a lawyer to do so). He has the opportunity to help "guide them through the maze" since most pro se litigants do not comprehend the law. As a law clerk to a judge, it's Schroter's job to teach pro se litigants how to handle themselves when presented in front of a judge and jury.
As a student in high school, Schroter was inspired by the book "To Kill a Mockingbird"  by Harper Lee. The main character, Atticus Finch, influenced Schroter because Finch defended a case that was affected by racism. Finch fought for what he believed, knowing that he would probably lose the case. "While I can't entirely credit the book for my desire to become a lawyer, the main character, Atticus Finch, was definitely an influence," Schroter stated. Schroter was also influenced by the career opportunities that being a lawyer portrays, the ability to help others and the challenging nature of the work.
While many children dream to becoming police officers or superheroes, Schroter always desired to be a successful lawyer. "It was always the primary option, not a backup plan," Schroter said. Schroter explained that, unlike most lawyers who usually work from break of dawn to the break dusk, law clerks have reasonable hours that add up to a normal work day for most people. "I love my current job," Schroter stated.