Honk! at Hawthorne High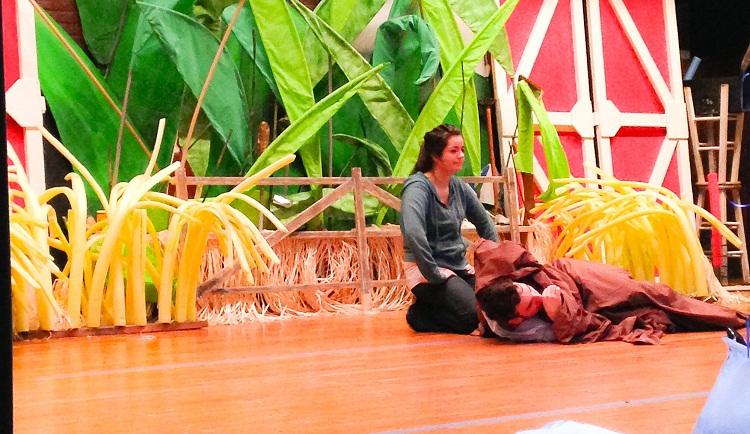 Ricky Dockray, Staff Writer
April 22, 2014
In just a few short weeks Hawthorne High School's theatre will soon erupt with laughter and applause as the spring musical, Honk!, is performed April 24-27 by the talented students of HHS.
Honk! which is an adaptation of the classic tale The Ugly Duckling, follows Ugly, a duckling that is taunted and rejected by everyone except his mother, Ida.  After being befriended by the malicious and sly character of the Cat, Ugly embarks on an exciting journey where he encounters many obstacles, as well as a wide variety of farm animals.
Honk! is a fun and family-friendly show that is based upon acceptance, tolerance, and determination.
Anthony Drewe and George Stiles, also known as the British songwriting duo Stiles and Drewe, are the masterminds behind both the lyrics and music of Honk! The duo's immaculate theatrical skills led Honk! to victory, beating out The Lion King, for best musical at the 2000 Olivier Awards in England.
Here at HHS, the all-student cast, crew, and orchestra have been working hard since January, preparing for the anticipated performances starting on April 24. The show includes senior Nicole Crilly as Ida, freshmen Kevin Bergen as Ugly, and senior Dustin Scully as the Cat.  Seniors Christina Dube and Chris Siracusa have also been hard at work heading up the production crew.
Senior Jetmira Cafuli, who plays the role of Mother Swan says, "I can't wait to finally perform.  Honk! is such a family-friendly show that people of all ages will understand and enjoy."
Annie Weisz, a junior who plays Snow, also commented on the kid-friendly nature of the show, saying, "I can't wait to see the amount of children in the audience."
Come support HHS, and experience the hard work, dedication, and talent the cast, crew, and orchestra of Honk! has to offer.
Honk! will be performed on:
Thursday, April 24 – 7:30 p.m.
Friday, April 25 – 7:30 p.m.
Saturday, April 26 – 2:00 p.m. Matinee & 7:30 p.m.
Sunday, April 27 – 2:00 p.m. Closing Matinee