Sophomore Sweet 16 Season
Hang on for a minute...we're trying to find some more stories you might like.
The sophomore girls are getting ready for their sweet sixteen parties; something they have all been looking forward to since they were kids. Their 16th birthdays are one of their biggest birthday celebrations with huge parties and the spot light all on them. Everyone is excited to watch these sophomore girls become young women. A girl's sixteenth birthday is supposed to be about getting everything they've ever wished for and more. Hopefully the sophomores at HHS have come to find this true.
Katherine Interiano had her Sweet 16 two weeks ago at the Sheraton Hotel. She rented out an entire floor for the event.  The theme of the night was gold and she definitely knew how to pull it off. The black tie event was perfect and everyone had the time of their lives.
Victoria Cancio also had her Sweet 16 recently at the North Haledon fire house. Her and her closest friends drove in a limo to the party and proceeded to dance the night away. Cancio wore a dress with an array of colors from hot pink to light green and topped it off with a sparkling crown on her head. Everyone had a fantastic time!
We also have a bunch of upcoming "sweets" to look forward to. Arianna Rojas, Carly Spirito, Katelyn Moro, Leah Rosado, and Jessica Stanford's parties are all coming up.
Chloe Sena, Julia and Madison Aguero, and Brittany Foley all brought or are bringing their friends to NYC for the day. Sena and her friends traveled in a party bus to Beauty and Essex for a dinner for her 16th. The girls dressed up and enjoyed New York City at night. Foley also brought her friends to NYC for the day. They toured around the city stopping in cute shops until they went to dinner at Carmine's. The Aguero's are bringing their friends to see Wicked on Broadway and are also going to Carmine's for dinner. These parties are nothing short of an amazing time and everyone is looking forward to the ones to come.
Even though these Sweet 16 parties are looked at as a day of having everyone's attention and praise, they were not always portrayed as an excuse to throw a big party. The parties used to be a celebration of a girl becoming a young woman. Back in the day, getting married at sixteen was acceptable and one of the main reasons the sixteenth birthday is so important. Nowadays that definitely does not happen often at all, so the tradition of the sweet sixteen has lost its original meaning.
Girls today go all out for their parties. They spend thousands of dollars for the location, limo, dresses, dancing lessons, food, and decorations. Granted, not everyone chooses to have all those things, but nonetheless a big portion of money is spent on these parties. The dresses these girls wear today are stunning; the dresses girls used to wear were a bit more conservative and not as flashy. In the end each girl (no matter the time zone) ends up with a tiara on their head and a room full of people who love them.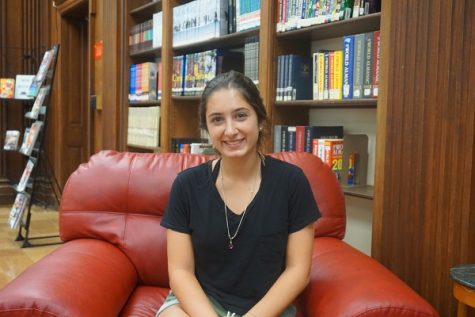 Barbara Cucci, Staff Writer


Barbara Cucci is a senior at Hawthorne High School. She is a part of the Class Cabinet, Student Council, the Italian Club, PEER Leaders, and...