The Oscars Are Coming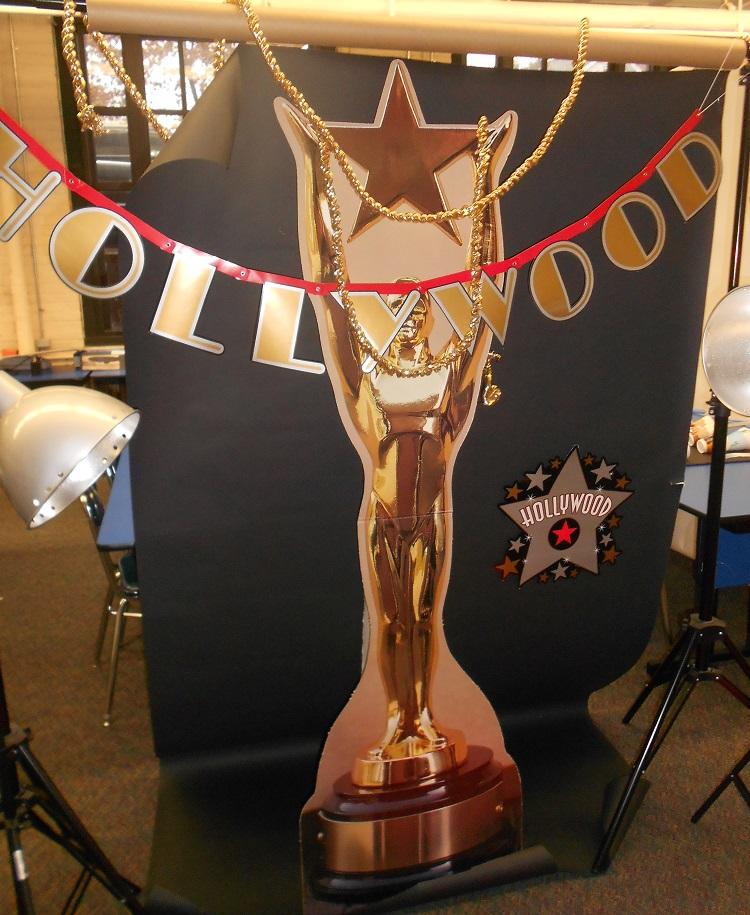 Hawthorne High School celebrates the Oscars movie awards in grand, Hollywood style. During the week before the award ceremonies, the Digital Media Club, under the direction of Mr. John DiLonardo, has created an Oscars-themed hallway by the Media Arts room. It is decorated with photos of the nominated actors and actresses, along with photos from the Best Film and Best Animation nominations. The hallway also offers the Red Carpet experience with photo opportunities for students and staff. The high school community will also participate in voting for their favorites. The homeroom with the most ballots matching the actual winners with be awarded an Oscar statue.
Before the winners are announced on Sunday, February 28 at the Dolby Theater in Hollywood, this is a good time to brush up on your Oscar trivia. Do you know the answers to these two questions: What is The Oscars? Or better yet: Who is Oscar?
The real name of the movie award show is the Academy Awards. According to the Academy of Motion Picture Arts and Sciences, a previous executive board director named Margaret Herrick thought that the statue looked like her Uncle Oscar, and then the staff started to call the statue Oscar.
The Oscars were first held in 1929. However, the board of the Academy Awards dates back even further. In 1927, MGM studio chief Louis B. Mayer had guests over to dinner one night and discussed how they could create a group to benefit the film industry. So, a week later, 36 invited guests from all fields of film gathered together to form the International Academy of Motion Picture Arts and Sciences. After this meeting the organization was established and the first head of the Academy was Douglas Fairbanks, a film actor at the time.
The first Academy Awards ceremony was held on May 16, 1929 at the Roosevelt Hotel's Blossom Room in  Los Angeles and was hosted by Charlie Chaplin. The first ceremony had only 13 categories (today there are 24). The winning actress, Janet Gaynor, won for many roles as lead actress, compared to the single roles today. Through the years, the award ceremony also added awards to be won, such as score and special effects.
The Oscars are a great way to pay homage to the great film-making of not just contemporary films but also of films of all time. From Charlie Chaplin to Leonardo DiCaprio, films still provide a relaxing escape from reality.