Those Who Passed in 2016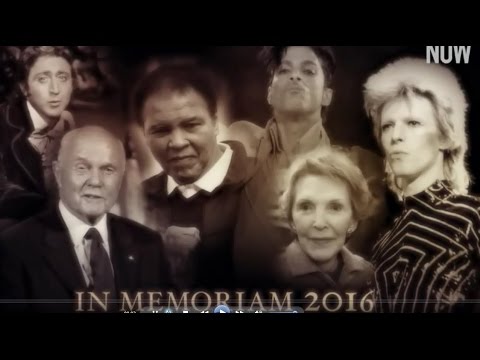 The year of 2016 has come to an end. We have lost so many beloved singers, actors, athletes that have impacted the lives of many. They will forever be remembered for the many talents that they have shared with the world. Here are 10 individuals and the triumphs that they worked hard to achieve.
David Bowie

The famous singer songwriter, David Bowie, died on January 10 of cancer. He wrote/sang many hit songs such as "Space Oddity" and "Fame" and starred in the movie

The Man Who Fell to Earth

. Today, if you go to the Rock and Roll Hall of Fame you will see him pictured there.

George Michael

One of the most famous pop-stars to ever perform, was George Michael, who was also a Grammy award winning singer. Some may know one of his most popular songs called "Wake Me Up Before You Go-Go" or one of his most successful albums called

Faith.

His music career took off as a teen and ever since then he has been a hit, who will continue to touch the hearts of many.

Tony Burton

Tony Burton had been known for acting in all six "Rocky" movies. Aside from being a father of four he was also a successful heavyweight boxer. During his boxing career he had been the 10th rated heavyweight champion, when winning 38 straight matches. Sadly on February 25, 2016, Tony passed away at the age of 79 due to complications of pneumonia.  

Doris Roberts

From the famous TV show "Everybody Loves Raymond" Doris Roberts had played the overprotective mother of the character of Ray Romano. Throughout her acting career, she has won many awards including an Emmy in 1983. She has put smiles on millions of faces and will continue to be known as the warm hearted grandmother that she played on screen.  

Prince

The legendary musician, Prince, died on April 21 of a drug overdose. He wrote many well-known songs like "When Doves Cry", "Kiss", and "Let's Go Crazy". Prince won three Grammys in 1984, 1986, and two in 2004. Totaling an amazing number of seven Grammys.   

Muhammad Ali

The American Boxer, Muhammad Ali, died on June 3 of septic shock. In his lifetime, he was an Olympic gold medalist and multiple heavyweight champion. He devoted the end of his life to philanthropy (

the desire to promote the welfare of others) and received the Presidential Medal of Freedom in 2005.

Gene Wilder

The celebrated actor, Gene Wilder, who was known for his legendary movie

Willy Wonka and the Chocolate Factory

passed away this year on August 28 of Alzheimer's disease. Wilder was not only a successful actor, but a successful director, screenwriter, and novelist.   

Arnold Palmer

Arnold Palmer was known for being the first man to win the Masters Tournament four times. Many know him by his nickname "The King." In his lifetime, Palmer won over ninety golf tournaments including several PGA Tours. Besides his career in golf, many recognize his name from the Arnold Palmer drink. Over ten years ago, the rights of Palmer's favorite drink were sold to Arizona Beverage Co. Sales. Unfortunately, on September 26 he died from heart complications.   

Alan Rickman

The renowned actor, Alan Rickman, died on January 14 of cancer. He was well-known for his roles in the

Harry Potter

Series,

Die Hard

, and the 2010 version of

Alice in Wonderland

. Some of the awards received by Alan Rickman were the BAFTA Film Award, Brussels International Film Audience Award, Emmy Award, Gold Hugo, and the Golden Globe award.

Nancy Reagan

United States first lady, Nancy Reagan, passed away on March 6 of heart failure. Before marrying Ronald Reagan, Mrs. Reagan was a Hollywood actress. As first lady, she started the "Just Say No" campaign teaching the importance of staying away from drugs and helping to find a cure for Alzheimer's disease.
These are just some individuals from 2016 who have recently passed. They will always be honored for the outstanding deeds they have done throughout their lifetime.