HHS's Carnevale!!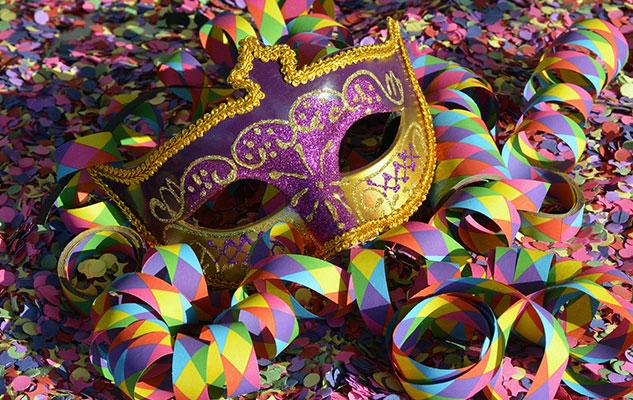 This year on February 28, 2017, Italy will be celebrating the fun, exciting holiday of Carnevale. Carnevale is essentially the Italian equivalent to our New Orlean's Marti Gras ("Fat Tuesday"); Italians fill the streets dressed in costumes and masks for the last celebration before lent begins on Ash Wednesday. This massive celebration is all about indulging as much as humanly possible before the 40 days of lent. Parades, parties, and live music all can be found in the weeks leading up to Carnevale. Venice holds masquerade balls as a tribute to the ones that were held back when Venice was a wealthy republic.
Here at Hawthorne High School, Carnevale is one of our most exciting events. Italian I students must create an original Carnevale mask, and the Italian II students dress up in costumes. Every year, the barrier wall separating the two Italian rooms is taken down to create one giant space for our famed Carnevale celebration, which this year is on Friday February 10, 2017.
From 9:00–2:00, rooms 111 and 112 will be hosting this huge celebration. For over 20 years, HHS has been holding a Carnevale celebration; Mrs. Marissa Fusaro, Italian teacher and Italian Club adviser, has continued this highly anticipated tradition and has only increased its popularity when she began working at HHS years ago.
Why should you go to Carnevale? Well, for a very good price, you can buy a variety of Italian pastries, cake, tiramisu, cookies, brownies, and just about any other baked good you can think of. Not enough? How about a waffle station (we're talking homemade, fresh waffles in a waffle maker- right before your very eyes) and an equally fresh cannoli and cappuccino station, all made to order. Word on the street is that a very important HHS faculty member whose last name rhymes with "cannoli" might be there for a photo op.
Still not enough?? Don't worry, there's more. For $2 a game ($1 per person), you can play FIFA with your best pals. Sportswear for the Italian Club will also be sold at Carnevale, along with a $1 per photo photo booth.
Whether you attend Carnevale for an intense game of FIFA, to binge eat cookies, enjoy fresh waffles, cannoli, and cappuccino, to take pictures with your friends, or all of the above, bring some cash and come out to Carnevale from 9:00-2:00 in rooms 111 and 112 for a time you won't forget. Take it from Mrs. Fusaro, "Carnevale is my favorite day of the year."
*A special shoutout to juniors Emily Adair and Aimee Alvino for creating the beautiful Carnevale banners!