April the Giraffe Gives Birth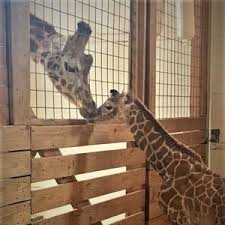 Hang on for a minute...we're trying to find some more stories you might like.
The day finally came.
After the long pregnancy of April, the giraffe from Harpursville, NY, the baby has arrived. The calf was born on Saturday, April 15 and it was broadcast worldwide via YouTube. The live stream started back in February for locals to view the Giraffe while the zoo was closed. Little did the town know,  that April would become a worldwide phenomenon with thousands of viewers tuning in daily to check up on the mother.
April has had 5 children before, but this was the first for this particular giraffe  "dad." Usually giraffe dads do not "stick around" for the raising of the child, so April will most likely take care of the calf. The calf has not been named yet, but a contest is underway to do just that. To enter a name, there is a $1 fee and it can be done on the April Giraffe Website.
Due to the fame, the park will be flooded with visitors to see the new calf when it opens on May 13. For now, viewers can see the calf and April still via YouTube and the live stream.