Holiday Hits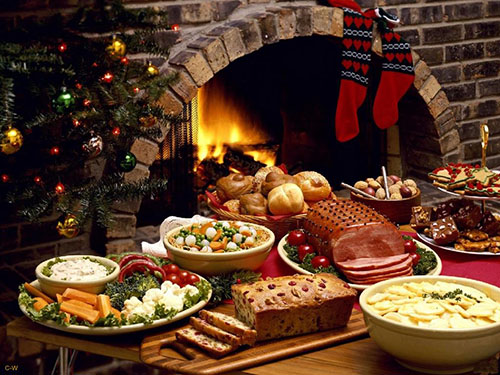 Food is not only a necessity, but joy itself. Here are some suggestions for holiday joys!
Holiday appetizers:
Crackers and cheese

Cream cheese bean dip with tortilla chips
Sides:
Green bean casserole with fried onions (French's)

Sweet potato casserole with marshmallows

Garlic bread or regular bread

Beets (Only for weird, I mean people with a sophisticated pallet)

Mashed potatoes

Rice

Salad

Stuffing

Broccoli with more broccoli

Red-skinned potatoes

Corn bread

Corn (cob or cob-less)

Mac and cheese with bread crumbs (maybe broccoli too)

Rice balls/ rice butter balls
Main course:
Turkey, Chicken, Ham, of course, the usual meats. (Tofurkey if you're vegan or vegetarian)

Lasagna

Pasta dishes
Drinks:
Apple cider (cold or hot or both)

Hot chocolate

Coffee

The average water

Soda

Tea
Desserts:
Cookies (chocolate chip. sugar, etc etc..)

Brownies (Ala mode)

Cake/cupcakes

Turnovers (apple, cherry etc..)

Pudding
Time for pie…

Apple, Cherry, Blueberry, Pumpkin, Key Lime, Pecan, Coconut Custard, Boston Cream, Chocolate, S'mores, Mixed Berry, Sweet Potato, Lemon Meringue, yatayatayata….