Love Is In the Air: Part One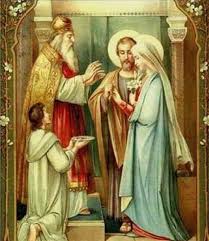 The month of love, February, is approaching: but the closer we get to February the closer we get to Valentine's day.
No one can quite pinpoint when this "holiday" was started, but many have stories and some are quite gruesome. One legend says that Valentine was a priest who served during the third century in Rome. When Emperor Claudius II decided that single men made better soldiers than those with wives and families, he outlawed marriage for young men. Valentine, realizing the injustice of the decree, defied Claudius and continued to perform marriages for young lovers in secret. When Valentine's actions were discovered, Claudius ordered that he be put to death.
Some believe that Valentine's Day is celebrated in the middle of February to commemorate the anniversary of Valentine's death or burial, while others claim that the Christian church may have decided to place St. Valentine's feast day in the middle of February in an effort to "Christianize" the pagan celebration of Lupercalia. (Lupercalia was a fertility festival dedicated to Faunus, the Roman god of agriculture, as well as to the Roman founders Romulus and Remus.)
Today, Valentine's day is full of love for either yourself, significant other, and even just showing love to family and friends.