Happy: A Review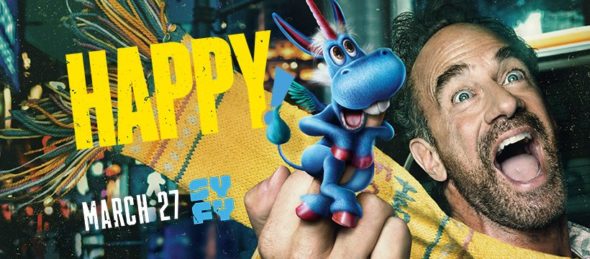 Christopher Meloni is mostly known for his role as detective Elliot Stabler on Law & Order: Special Victims Unit, and also as Gene in Wet Hot American Summer.
In these roles he showed that he could both act in serious dramas and comedies. After he left his role as Detective Stabler in 2011 he had many other roles in movies such as Man of Steel. Until 2017 he wasn't starring in anything that made him as beloved as Law and Order did.  Then in 2017 a new show came out called Happy on the SYFY network.
This show stars Christopher Meloni as an ex-cop turned hitman Nick Sax who befriends his daughter's imaginary friend after she was kidnapped. The show is extremely violent and gory right from the first episode. We follow Nick through the whole first season searching for his daughter and killing anyone who gets in his way.
His new friend Happy (who is voiced by Patton Oswalt) tags along with him.  Nick tries to get his life back together and at the same time save his daughter…he nearly dies several times putting a serious toll on his health.
This show has moments where it does not take itself seriously in the slightest, while also having very dramatic scenes and lines. 
The show was cancelled after the second season even after having an 8.3 on IMDb and a 91% audience score on Rotten Tomatoes making many fans of the series extremely outraged.