Festivus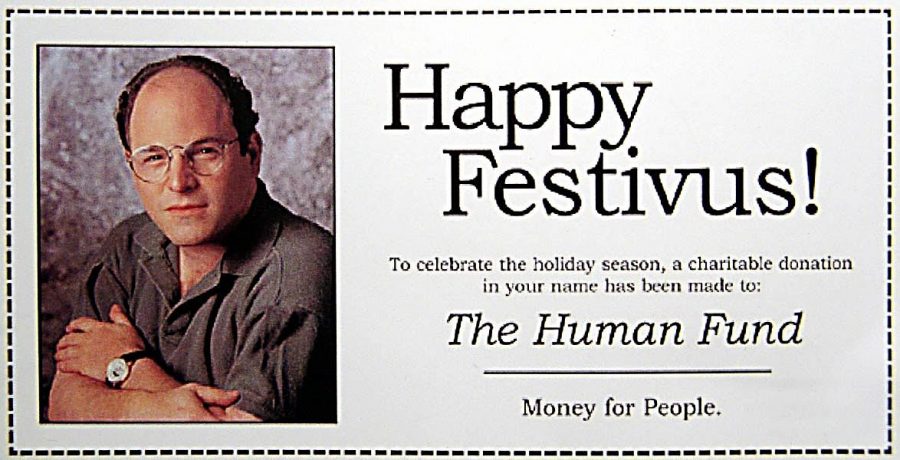 Happy Festivus everyone! A festivus for the rest of us.
Now, many of you might be confused about what Festivus is? Festivus is a holiday created to be celebrated December 23 of each other. It is to get away from the pressures of commercialism of Christmas. It was created by Frank Costanza in the episode "The Strike" from Seinfeld. Festivus consists of events like the airing of grievances and feats of strength. Also, instead of a Christmas tree you put up a metal pole.
The plot of the episode that created the Festivus holiday consists of Cosmo Kramer returning to his old job at H&H Bagels. Meanwhile, George Costanza gets a letter from his father saying "Dear Son, Happy Festivus." This leads to Jerry and Elaine asking him what Festivus is. Kramer becomes interested in bringing the holiday back as an alternative for Christmas. George meanwhile creates a fake charity called The Human Fund so he doesn't have to get any of his co-workers any gifts. When questioned about the fund from his boss, George states he is traumatized from Festivus and never has celebrated a real Christmas. 
Festivus over the years has become a tradition amongst all Seinfeld fans. In my opinion, this is way better than Christmas! As in the words of Frank Costanza I will end off with " A festivus for the rest of us!" I want to wish everyone and safe and healthy Christmas, Hanukkah, Festivus, New Year, or whatever holiday you celebrate as we inch closer to 2020!