Uncut Gems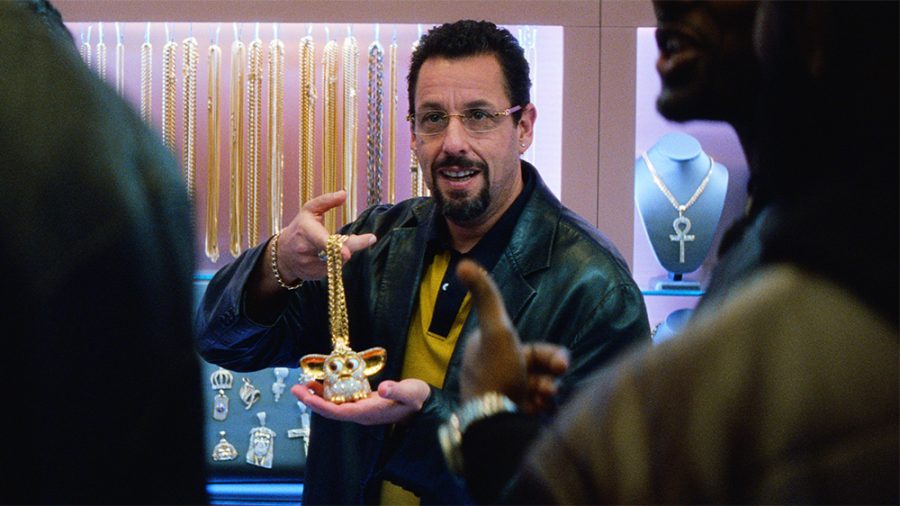 Adam Sandler, or as the HHS student body says Joshua Kabrel, has went from Happy Gilmore to a degenerate gambler Howard Ratner in his new film Uncut Gems. Unlike Sandler's previous movies, this is not a comedy, it is a drama. This shows off Sandler's acting ability to a great extent. The movie features stars like Kevin Garnett, The Weeknd, Idina Menzel, and the man who has been number one in New York sports radio for years, Mike Francesa.
Production for the film began in 2016, with Jonah Hill set to play the part of Ratner. In 2018, Sandler had replaced Hill in the film. Filming concluded in November of 2018. The film was released in select theaters on December 13th of 2019. It recorded almost $500,000 in box office returns in a limited screening. It is projected to get $15 million in the first 5 day weekend of it's official release.
The film focuses around Sandler's character Howard Ratner in the year 2012. Ratner runs a jewelry shop in New York's Diamond District. He has a gambling problem and owes money to loan sharks. Ratner receives an opal, which he plans to auction off to pay off his debt. However, Garnett wants the opal for good luck. KG trades his NBA championship ring in exchange for the opal.  Ratner pawns the ring to place a large bet on the game. Thus, he will have enough to pay back for the ring and the money he owes the loan sharks. 
Howard Ratner's life is also split during this time. His wife intends to divorce him and he is having an affair with his employee, Julia. During his daughter's play, Ratner is ambushed by the loan sharks and is beat up. He wins the bet, but Garnett wants to keep the opal for longer. Ratner refuses and this leads him to crashing The Weeknd's concert in order to find the opal. He finds the opal, but it is not nearly worth anything like he had thought. Ratner brings his father-in -law to bid to increase the price, however Garnett bids out after the price goes to $200,000.
KG and Ratner later agree to a price of $175,000 which he uses to gamble on the game, instead of paying off the loan sharks off his debt. Ratner locks the loan sharks into a closet during the game, and he wins over a million dollars. The sharks do not care and shoot Ratner. The movie ends with Ratner bleeding out on the floor.
The reviews for the movie have been amazing. According to the Wall Street Journal, " Sandler is flat-out sensational as Howard Ratner." The movie has received very favorable reviews from IMDB, Rotten Tomatoes, and amongst many critics. The film received a 8.2/10 from IMDB and a 92% from Rotten Tomatoes. This is a huge increase from Sandler's last film Jack and Jill which was possibly the worst film since Green Lantern to ever be made. Many critics say this is possibly Sandler's best performance ever. This is saying something as he has been in classic films like Happy Gilmore, Big Daddy, Grown-Ups, and The Waterboy.
Uncut Gems is one of Sandler's best work and the inclusion of stars like Mike Francesa from New York's number one sports radio talk show, Mike's On just adds to how amazing this film really is. Critics love it, the audience will love it, and it is already nominated for multiple awards without really even being released. Uncut Gems will officially release in all theaters on Christmas Day, December 25.