Resurrection Ertugrul: The Greatest Show on Earth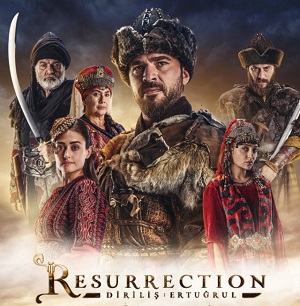 Are you tired of watching the same old TV shows over and over again during this quarantine? Would you like to watch something that is based on actual history and out of this world? If so, then I've got the perfect show for you!
Resurrection Ertugrul is a phenomenal Turkish series that portrays the historical background of the Muslim Oghuz Turks in the 13th century. The show centers primarily around the life of Ertuğrul, a brave warrior and leader of the Kayi Tribe who fathered Osman I (the founder of the Ottoman Empire). 
During the 13th century, Muslims were challenged by groups of vicious attackers from around the Eastern world. In Season 1, a feud takes place between the Crusaders and Muslims as the evil Templars devise a plan to take over Jerusalem. Season 2 introduces the presence of the Mongols, who spread bloodshed and corruption wherever they set foot (although all fight scenes are censored, I do not recommend watching the show if you are easily triggered). It was up to the Muslims to defeat them and gain victories for their Lord.
The creators of Resurrection Ertugrul have done an amazing job in designing the show to be appealing to their audience. By turning actual history into a TV series, they can educate their audience on the successes of the Islamic Empires and allow them to better understand the significant figures of the time period.
 When I first began watching the TV series, I did not know what to expect. However, as I finished Season 1, I had grown a strong connection to the show and its characters. Also, since I am a Muslim myself, I learned a lot more about the religious practices that took place back then. Following the principles of Islam, Ertugrul never killed anyone unless they were attackers who wanted to harm the innocent. He believed in human rights and gave mercy to even the worst of his enemies. Ultimately, it was Ertugrul's patience and immense trust in God that allowed him to win every single battle and conquer all of his enemies. 
All 5 seasons of Resurrection Ertugrul are available on Netflix. Don't speak Turkish? Not a problem! Resurrection Ertugrul is already translated into various languages, including English, Spanish, Brazilian, French, Portuguese, and Arabic. I strongly encourage you to watch this amazing show, since it tells the extraordinary story of one of the greatest men to ever walk the Earth!