Super Nintendo World Is Having it's Grand Opening!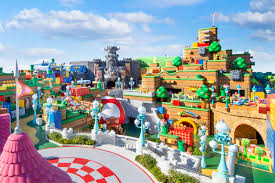 The new Super Nintendo World theme park is opening in Universal Studios in Osaka, Japan very soon! The park has not announced a specific date yet because of the uncertainty surrounding the COVID-19 Pandemic in Japan at this time. The theme park was originally supposed to open in mid-February but it has now been pushed back to some unknown date. The park features amazing rides, food, and fun that can be enjoyed by people of all ages. The new theme park makes an amazing vacation spot with the large variety of attractions and activities that there are to do.
At Super Nintendo World, visitors will be able to play the popular video game, Mario Kart, in real life! Attendees will wear headsets and play the game using advanced technology in the colorful, fun buildings that are used to resemble the video game. The theme parks main attraction is Mario Kart: Koopa's Challenge and the park will also feature a ride called Yoshi's Adventure. You can also find gift shops and interactive  and walk-through activities when you visit this incredible new amusement park. 
The park will offer a variety of unique kid-friendly dining experiences, but adults will be sure to enjoy as well. At Kinopio's Cafe, you enter through a mushroom facade, which is reminiscent of Nintendo's video games. The restaurant has both vegetarian and vegan options and the meals are all themed to fit with Nintendo's characters and special themes found in their games. If you're just craving a snack, Yoshi's Snack Island is conveniently located next to the Yoshi's Adventure attraction. You can get more themed food items as well as souvenir popcorn buckets for the kids throughout the park.
Overall, the theme park is looking like it will be a great spot for family and friends to have a fun vacation where children to see their favorite video games come to life.  Additionally, this theme park is just a part of Universal Studios, featuring a variety of other attractions and fun things to do when you visit. When the pandemic dies down and it is safe to do so, Super Nintendo World is a great place for an amazing trip!