Heartstopper: A TV Show Review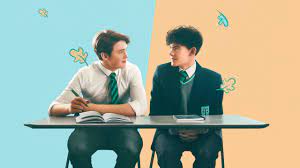 I don't know about you, but I love a good comedic/romantic TV show,which is why The Clarion is going to be reviewing one of the best TV shows out there right now, that actually started as a book,which is why people love it so much.
The TV show that The Clarion is reviewing is Heartstopper.
Heartstopper is a British TV show based on a series of books by Alice Oseman. Heartstopper concentrates on a teen romance between Nick Nelson(Kit Connor) and Charlie Spring (Joe locke).I honestly think this is one of the best and most wholesomes TV shows on television.
What is Heartstopper About? The series is about Charlie, an openly gay anxious boy, and Nick, a kind-hearted rugby player. They both go to the same British all-boys school and when they meet, they immediately have a connection and become friends.
Being friends with a rugby player is certainly one of the highlights of Charlie's year. When some of the boys found out that he was gay the year before, they were not too kind about it. Luckily, he's not being bullied anymore, but he still holds those memories
Nick only knows Charlie as the boy who was outed and bullied, but when they share a class together, he finally gets to talk to Charlie and get to know him.
As their friendship continues, Charlie discovers he has a huge crush on Nick, but he believes it is hopeless because he thinks Nick is straight. But sometimes love surprises you in the best of ways. Beyond Charlie and Nick, we also get a look at their friend groups and how they react to the two hanging out with each other.
Is Heartstopper worth watching? Heartstopper is worth tuning into not only for Charlie and Nick's romance but also for other characters in the show. Tara and Darcy are two young lesbians at an all-girls school who are navigating their own relationship.
Elle, who has recently transferred to their school from the boys' school, is dealing with a whole new way of life. She's transitioned and is attending the school that fits her identity, but she's struggling to find her place due to the bullying she experienced and her fear of trusting others.
Isaac's always got his head in a book, and is the most adjusted of them all while Tao doesn't cope well with change. His response? Fiercely guarding those closest to him and lashing out when it seems they're slipping away.
Tao is a straight boy and also Charlie's best friend. Tao  is the most loyal friend you can find, even when people take him for granted. He is highly skeptical when Nick starts spending time with Charlie and fears he could be taking advantage of his good nature. Generally, Tao is easily alarmed by anything that threatens to endanger the friendship group he loves so dearly, which also includes a newly absent Elle and Isaac.
This show is such a beautiful representation of how love and joy should be. Even though there is sadness in the show, it is so beautifully and carefully made, with so much detail, color, and just pure happiness exuding throughout each episode. The acting and chemistry from every single person in the cast is absolutely incredible. Every single scene and storyline felt grounded and so genuine I was almost convinced it was real. This show is so refreshing and presents such a new and beautiful take on the joy of love that I don't think I have seen before.