Hot Diggity Grill Review: 5 Stars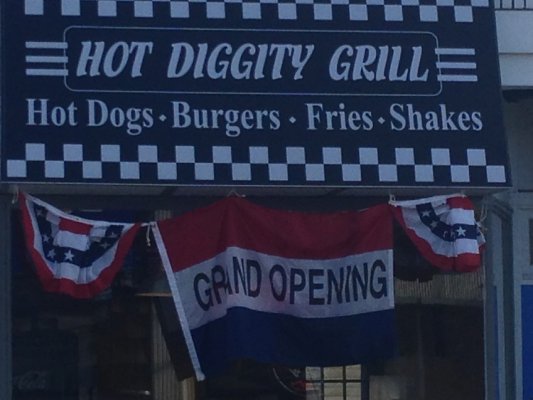 On an ordinary day, early in March, I was wondering where to go for lunch. Craving a nice hot dog and some fries, I was told I should try a new place in Hawthorne called Hot Diggity Grill, located on 204 Diamond Bridge Avenue.
When I walked into the establishment, I  automatically felt comfortable.  The employees all had a smiles on their faces and were happy to see the customers. I chose to sit on the stools at the  counter, but tables are available as well. (I personally like being able to see the cooks working at the stove and the fryers from where I sit. )
I wanted a hot dog, but I also wanted more than just a plain dog, so I asked the woman behind the counter for a recommendation, and she picked a specialty dog — the BLT Dog. This is a hot dog wrapped in bacon, with lettuce, tomato, and mayo — all for $3.50, and if you're really hungry, you can get a double for just for $2 more. To add to my BLT Dog, I ordered French fries with chili, gravy, and cheese.
Not only was there great food but also great service. The employees were always willing and able to do anything a customer needs. I hadn't finished my root beer, when the woman behind the counter filled up a glass and placed another one next to me so I wouldn't even have to ask for a refill.
Another fine dish my friend Philip Habib, fellow senior at HHS, enjoys is Mike's Flying Hawaiian Hot Dogs and Burgers; both have a special Pineapple Habanero hot sauce. Habib said, "It's a favorite of mine because I love spicy food, but not only [because of] that. The meat is cooked great and it all complements each other very well."
Before my experience at Hot Diggity Grill ended, I wanted to finish my meal off with something sweet. I asked what kind of desserts they had at the grill, and the same woman behind the counter told me to pick the root beer float with vanilla ice cream. To my surprise it turned out better than I expected!
My first visit to Hot Diggity Grill was an overall great experience. For anyone looking for a nice casual meal for an extremely cheap price, I recommend Hot Diggity Grill. It has a large menu with plenty of items to choose from, such as deep fried dogs, sandwiches, classic burgers, chicken fingers, soups of the day, and grilled cheese, all made to order. Just make sure that you have enough time to select and enjoy your meal; you're going to be there for a while scanning through all their great choices. I told my friends and family about Hot Diggity Grill, and personally I've been back plenty of times since.
Hot Diggity Grill is open seven days a week. Monday through Thursday 11:00 a.m. – 9:00 p.m., Friday and Saturday 11:00 a.m. – 10:00 p.m, and Sunday 11:00 a.m. – 7:00 p.m. Enjoy!