Ava Blue: The Last Lorelei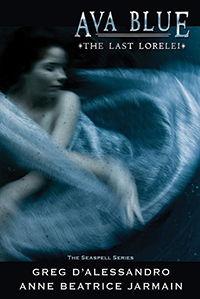 Ava Blue is a young almost 16 year old sophomore at Sweetwater High School. Ava's world is about to turn upside down when she meets a mysterious boy by Lake Superior. Soon Ava's life is starting to change, her singing voice is getting stronger, a new girl in the school is her friend, and (of course) there's the mysterious lake boy. Ava soon learns she is not as normal as she thought she was; she was really a Lorelei, the last of the Freshwater tribe, and the whole Ocean is fighting over her.
Ava Blue: The Last Lorelei is a fictional book, written by Greg D' Alessandro. This book is a great way to start a series of books. Many sophomores can relate to Ava in the book. She volunteers with old people, she has an older sibling that is very popular in school, and she has a crush on a boy, etc. This book isn't flawless however; there are some typical genres that follow the same pattern, and this one sadly does, with such tropes as, "On their whatever Birthday, they will see their true powers" or "The main protagonist is an orphan, and their parents are nowhere to be found" This keeps the book from being as original as it can be, however the idea is new.
Many people use fairies, wizards, and mermaids as a mythical beings they meet in the story, however, Ava Blue uses a different term for a mermaid, they use Lorelei. Lorelei isn't your typical mermaid; Lorelei can live on land, so it's an interesting twist to see. This book gives us the world through Ava's eyes, her life, her fear of the ocean, and her feelings for the mysterious lake boy. We get to know her inner thoughts about life, and how she deals with it. The book also gives a good balance of drama, mythology, and adventure, and it's only the beginning. is a great way to start off a series of new books. I recommended it to anyone that likes a little romance, drama, and mythological creatures, such as the Lorelei herself.