Lunch With E and L: Noodles and Company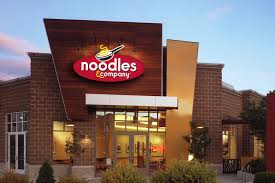 This is the first in a series of articles reviewing local food establishments. Different staff writers have agreed to review restaurants that are popular with students at Hawthorne High School. The first of our reviews is an establishment in Fair Lawn, named Noodles and Company.
As most of the student body of Hawthorne High School knows, open lunch is a privilege that is given to seniors. As the year goes on, we have started seeing a developing trend in the places the students decide to eat. One place the seniors enjoy going to is Noodles and Company, which is located in the Fair Lawn Promenade at 16-31 NJ 208, Fair Lawn, NJ. On Sunday-Thursday, Noodles is open from 11AM-10PM and on Friday and Saturday, it is open from 11AM-11PM. However, during senior open lunch, it is most common to call ahead and eat at the restaurant. Senior, Brittany Sabatello commented, "Even though it's not in Hawthorne, the food is worth the drive because you can't get this kind of food anywhere else."
At Noodles and Company, there is a wide variety of different cuisines, such as Japanese, Italian, and classic American food. Some favorite dishes among students include penne rosa, pad thai, and classic mac and cheese. Typically, the menu items are under ten dollars.
Moving on to the service, the staff of Noodles & Company is nothing but helpful. They help to provide quick service that is far from mediocre. This service makes it easy to see why many Hawthorne High School students frequently eat at this restaurant.
Noodles and Company is a clear choice to those interested in a wide variety of cuisines. The service is great and so is the food. The students of Hawthorne High School would rate this restaurant 4 out of 5 stars.