Top 5 Stephen King Novels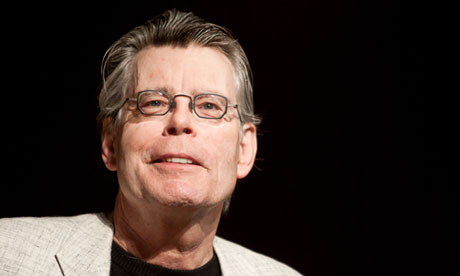 Hang on for a minute...we're trying to find some more stories you might like.
There is no better month then October to read a great horror story. Who doesn't love that chill that runs down your spine as the author describes things that should stay in your darkest nightmares?
If you love to read about the things that go bump in the night, than reading any novel written by Stephen King, the King of Horror, is the way to go. Grab your cup of tea, curl up on the coach, and dim the lights if you dare because the King will keep you busy!
Misery (June 8, 1987)
Classified as a psychological horror, Misery, is more of a cautionary tale to all authors. By cautionary tale, I mean get the heck out of Dodge if you come within 10 feet of your biggest fan. Wanting to expand his writing horizons, famous writer Paul Sheldon kills off the lovable protagonist in his romance series. After getting into a nasty car wreck in Colorado, Anne Wilkes nurses him back to health. Anne Wilkes is his greatest fan and she was not too thrilled with the ending. Determined to make him write a new ending she comes up with various ways, both violent and psychological, to convince him.
Salem's Lot (October, 1975)
King's second novel established him as the master of American Horror. Author Ben Mears returns to his hometown of Jerusalem's Lot to write his next novel as he explores the history of Marsten House. Home to many rumors, the house was a perfect idea for his upcoming novel. The story takes a sinister turn when two boys wander into the woods and only one returns. Supernatural and demonic forces are at work in that small town and King's gripping writing will have you hooked.
The Shining (January, 1977)
What happens to an unstable mind when left to its own devices for an entire winter? Based on King's personal experience at the Overlook Hotel, The Shining is centered around the Torrance family. Their son Danny possesses psychic abilities which allow him to see into the hotel's horrific past. Soon trapped indoors by a ferocious blizzard, Jack Torrance, a recovering alcoholic, mental state begins to shatter. Supernatural forces run rampant and this spells danger for the rest of the family. Although the book does not contain the iconic line "Here's Johnny!", the bone chilling terror is still very much present.
Cujo (September, 1981)
Taking place in a small little town in Maine , Cujo makes the reader fear man's best friend. The town of Castle Rock is put on edge after a dog wanders into a cave and wakes something that even the devil himself fears. Cujo, a friendly dog infected with rabies, reflects how King felt during the time it was written. A serious alcoholic when he wrote Cujo, he had little memory of that time. Whether he remembers it or not Cujo will leave you with a lasting impression.
IT (September, 1986)
With the creepy clowns that had made their way to New Jersey recently, IT is the perfect book to read. Usually dressed as a clown IT preys on young children. A horror novel through and through, IT also demonstrates King's usual themes in his novels. Told in third person and in two different time periods.