Holiday Gift Guide for the Last Minute Shopper
Ammy Pena, Photo by Ammy Pena
December 16, 2012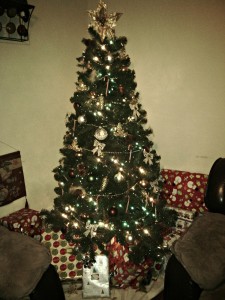 It's that time of year when the holidays are upon us. Many people get into the jolly spirit by giving presents, and with the 2012 holiday season in full swing, if you're wondering what to get, here is holiday gift guide to help avoid the stress of last minute shopping.
According to Seventeen.com, some perfect gifts for teens this year include Skull Candy headphones.  At an affordable price, these headphones are perfect for guys and girls as they can be customized to anyone's liking. Also on the list, Seventeen suggests that a mini foosball table for $36 that can be found at FredFlare.com.
Seventeen.com also gave ideas for the special women in your life, like your mom. As mothers deserve to be pampered, Seveteen.com recommends checking out Bath and Body Works. Their sleep line and aromatherapy products will relax anyone in no time. If your mom likes makeup, you might consider Smashbox Studio Pop for eyes. This product, which can create an amazing eye look for a night out or holiday party, can be purchased at Sephora stores or at Smashbox.com at an affordable price of $19 to $26.
For the men in your life, Seventeen.com has perfect gift ideas. It recommends the Remington Touch Beard and Stubble Trimmer that has amazing USB charging features for $50 at RemigntonProducts.com. As his wallet may be out of shape, consider checking out Nautica.com to find the perfect quality and style wallet just for him.
With the days flying by so quickly, it's time to get that last minute holiday shopping complete. Hopefully, you will see a glistening in the eyes when your family and friends open the gifts you've so carefully bought for them.