A Worldwide Dance Craze: The Harlem Shake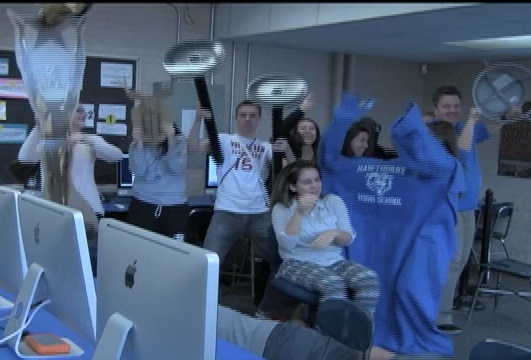 During the 2013 Mr. Hawthorne talent contest, members of the Media Arts class, along with teacher John Di Lonardo, created a video showcasing the contestants. At the end of the video, to the amusement of the audience, the class, danced the Harlem Shake dressed in funny costumes. The Harlem Shake is a dance that has gained international interest and has even found its way into the halls of Hawthorne High School. With a YouTube search of the Harlem Shake yielding over 200,000 results, the dance craze has exploded into much more than what people expected.
The Harlem Shake begins with one person who is masked or wearing a costume dancing to the song while everyone surrounding him or her acts as if they are unaware of the dancing. Fifteen seconds into the song, the beat drops, "Do the Harlem Shake" is heard, and everyone starts dancing convulsively.
Many people wonder where this new sensation came from. Kia Gregory of The New York Times reports that compared to today's Harlem Shake, "the real Harlem Shake, a much more raw, technical, fluid, frenetic dance, was born in [Harlem] New York City more than 30 years ago." Albert Boyce, also known as Al B, who passed away in 2006, is credited as being the creator of the Harlem Shake; the dance was then known as the Al B. His mother, Sandra Boyce, said Albert spent most of his life dancing "to every rhythm, and every beat, and every song." The Crazy Boys, a popular dance crew, took Al B's dance moves to a new level by adding the "shake," spastic arm and chest movements. This crew, which started performing the dance at teen dances, took the dance mainstream when it caught the attention of famous rappers such as P. Diddy, Cam'ron, and Jadakiss. However, in recent years, the Harlem Shake lost its popularity. The recent explosion of the dance has made the Crazy Boys feel relevant again, member Joseph Collins told Gregory.
The Crazy Boys, who take dancing seriously, told Gregory that the Harlem Shake isn't just a parody for them, unlike the videos seen on YouTube. Maurice Strayhorne, member of the Crazy Boys states, "I'm not a hater…but it's bitter in the sense of, it's like they're disrespecting the whole style of dancing."
Unlike the Crazy Boys, many people in Harlem have taken offense to the new Harlem Shake. A video, which can be seen at http://www.youtube.com/watch?v=KD1CZHisrvA, shows what people in Harlem think of the new dance craze. One woman stated, "I mean… [it's] interesting, I just really don't think it's closely related to the original Harlem Shake." Another man said, "I feel like they're trying to disrespect us."
The Harlem Shake dance craze that started out as a few parody videos turned into something much more–like it or not.