Swimsuits for Every Body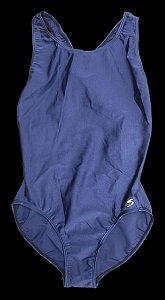 Summer is almost here, and it's time to put away those thick sweaters and boots and get those bathing suits ready! However, as swimsuit season approaches, many girls are left wondering how to find the appropriate swimsuit for their body shape.
According to Jazmin Whitley of About.com, girls with an apple-shaped body should wear a two-piece set with a solid color top and bottom piece that has patterned print on it. This look will give apple-shaped girls a more balanced appearance.  Whitley also suggests that girls with a pear-shaped body should go with a patterned one-pieced suit. The pattern is made to create an illusion of a waist line, since girls with pear-shaped bodies tend to have wider hips.  Whitley also states that girls with slender, athletic body types can go for either a one-piece or two-piece suit because either will give them an hour-glass shape.  The girls with hour-glass bodies are lucky. Basically, any type of bathing suit will be flattering to their shape.
If you don't fall into a particular body shape, Cindy Alpers of Fasionabout.com has some great suggestions on how to find the perfect swimsuit. Alpers says that girls who have short legs or torso should find a bathing suit that is cut high in the thigh; she says this cut will accentuate the waist. She also suggests wearing a solid color bottom and a printed top to draw the attention upwards to give the appearance of longer legs or a longer torso. If you're looking for length, Alpers says to avoid boy shorts because they make girls look shorter.  For the girls who have long legs and don't have this issue, Alpers says to have fun with your suit and go wild with embellishments on the hip and bust line. If long-legged girls want to wear a one-piece, try a cut-out swimsuit because it will break up a long torso just like a bikini does. For girls who want to slim their hips, Alpers says that boy shorts, ruffled skirts, and cover-ups are perfect.
Hopefully, with the help of this article, many girls out there will know how to shop for bathing suits that flatter their body type.