The Perfect Christmas Look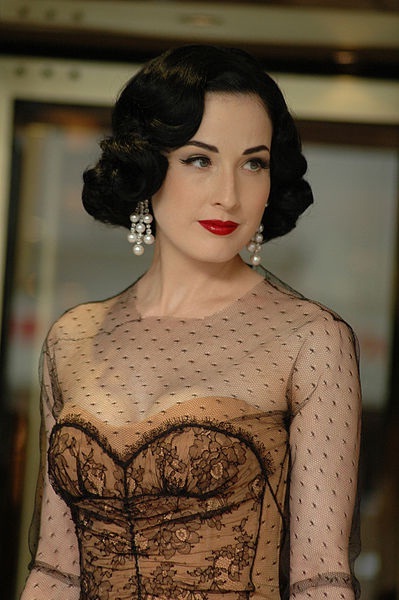 When the word Christmas comes to mind, many people think of gifts, Old Saint Nick, family time, and the wintery snow.  What many people may not note is the sparkle, the bold red lips, and the tight fluffy curls. No matter if you're going to a casual or a glamorous holiday party, you may want to jazz up your everyday look to get into the holiday spirit. In this article I will share common and unique looks that will let you show your holiday spirit.
 This first look is specifically for the girl who is going to a casual holiday get together; this girl wants to look put together without looking so crisp. Whether you plan to wear a shirt, a pair of slacks, or jeans—a lacey white blouse is the way to go. You can pair this blouse with a fancy necklace or even a blazer. To make the look more casual, go with a comfy pair or flats or boots. To dress it up , add a pair of heels and you will never go wrong.
Also for the girl who's going casual this year, your hairstyle is oh so important. You can simply do a sleek ponytail, then you can take a piece of hair from the ponytail, wrap this hair around your hair band and pin it in place. This ponytail is not only sleek but can be elegant as well, and it took you only five minutes to do! You will have many compliments on this—just finish off with some hairspray to hold your hair in place.
As for makeup, rock it with a bright red lipstick and you won't have to wear much eye makeup at all. Take a shimmery eye shadow shade all over your eyelid to give you that Christmas sparkle—you can use a shimmery gold, silver, pink, or even a Christmassy green shade. Remember to give yourself a generous coat of mascara, sweep a light pink blush over the apples of your cheeks and you're done.
Of course, some girls are more daring and want to go all out on glamour.  This girl has no shame in wearing the perfect red or white dress; with a pair of stilettos your glamorous outfit is almost done! Just add a few statement-pieced jewelry and you're ready to party.  For makeup, this girl can go as dramatic and as classic as she wants. For the dramatic look take a gold or silvery shimmery color all over your lids, and then take a medium to dark brown color to your crease with windshield wiper motions to blend the shimmery color in to the brown. Then you can take an even darker brown or a black eye shadow shade on the outer corner of your eyes to intensify and define your eyes. Make sure you take the medium-toned color you used earlier on your lower lash line to balance out the eyes, and add eyeliner to your top lash line and the inner rims of your eyes to add more drama and definition. You can also add false eyelashes or a few coats of generous mascara to finish off the eyes. For this look if you went all out on dramatic eyes,  a nude or baby pink lips will be best for this look. If you didn't intensify your eyes so much, you can go ahead and rock the red Christmas lips.
That's it ladies. Remember to enjoy your Christmas in the most effortless and beautiful way.