2014 World Cup Tournament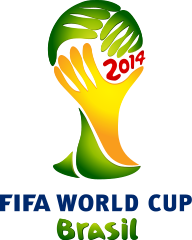 The excitement is growing for the 2014 FIFA World Cup, and soccer fans across the globe are anticipating the summer games. Thirty-two national teams qualified for the cup, and the first game kicks off in a little less than a month on June 12, 2014 in Sao Paulo, Brazil. Games will be played in 12 major cities across Brazil.
Brazil, the host country this year, is nearly ready for the games to begin. Brazil will be playing in the first game against Croatia, as it is tradition for the host country to open up the tournament.
Many are favoring Brazil to take home the cup because of home turf advantage and pride, in addition to the fact that Brazil is the most successful team with five titles. However, others predict powerhouse Germany will take it all. Regardless of predictions, it could all change once the tournament begins.
The World Cup final, the game which will determine which champion will come out on top, will be played on Sunday July 13, 2014 in Brazil's capital, Brasilia.
HHS sophomore, varsity soccer player, and soccer fan, Tony Minimi commented on the Cup, saying, "The World Cup is one of the most anticipated tournaments all around the world, and if I could describe the games with one word it would be, intense, very intense."
FIFA, which stands for Fédération Internationale de Football Association, is an association that has held the tournament every four years since 1930, with the exception of 1942 and 1946 due to the Second World War. The last World Cup, which was won by Spain, was played in 2010 in South Africa.
As the tournament approaches the excitement will continue to grow and the craziness of the cup will surely hit all fanatic soccer fans at some point during the month long tournament.