Why Do We Celebrate Martin Luther King Day?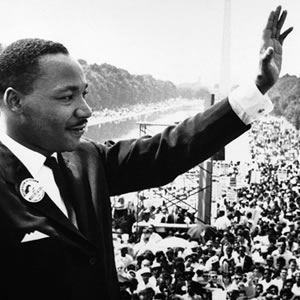 Hang on for a minute...we're trying to find some more stories you might like.
As the week starts to come to a close, you may have noticed that Monday, January 15, school was closed for students: but you may not know why.
Martin Luther King Day is a federal holiday that is held on the third Monday of every January. We celebrate January 15, because of King's life and achievements, not because we have one day off from school. Martin Luther King Jr was one of the many important people to voice his opinion about the America Civil Rights movement. You may have recognized him from the "I have a Dream speech" that is considered to be one of the greatest speeches in history.
Martin Luther King Jr faced a lot of difficulty in his life, like getting arrested multiple times. But, besides all the bad things he went through in his life, King was the youngest to receive the Nobel Peace Prize at the age of thirty-five. Instead of keeping the money to himself and his family he gave it all to help the civil rights movement.
After he got assassinated, students from Duke University organized a protest which was called the "Silent Vigil". The protest grew into 1,500 students in five days. This protest showed that even though King was assassinated, he was still able to help the civil right movement grow and have others follow in his footsteps.