Fall Into Apple Picking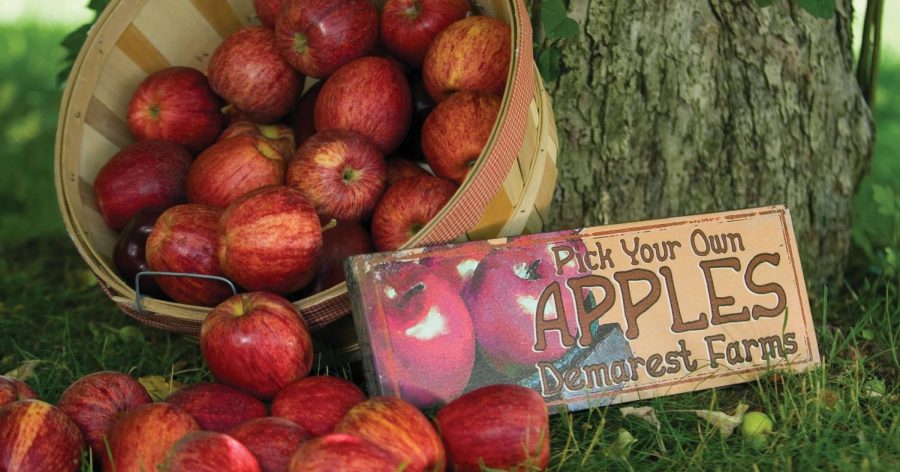 The apple picking season in New Jersey happens in the Fall season.
It starts in the late August to October 31. When you go apple picking wear boots or sneakers with thick socks.  Don't forget your sunglasses in case the sun is really bright.  Bring a jacket in case its a brisk autumn day.
One local farm is located in Hillsdale, New Jersey and it is called Demarest Farm.  At this farm you can pick your own apples, peaches, and pumpkins.  They even have a pumpkin picking night with a movie featuring Spookley, the square pumpkin.
If you want to travel a little you can go to Maskers Orchards in Warwick, NY.   At Maskers they have 200 acres of land and many favorite picnic spots.  The parking and admission are free and you can eat some apples as you fill a bag.  It costs $26 for about a full bag of apples.  You can have  a picnic lunch that has sandwiches, granola bars, trail mix, hard boiled eggs, water bottles and juice boxes.
Another local farm is called Abmas farm in Wyckoff , NJ.  This farm has a market where you can buy poultry, eggs, apple cider, and donuts.  At Abmas they also have pumpkin picking and hay rides.
Under the right conditions freshly picked apples can last up to 10 months.  Besides eating the apples, you can bake many yummy recipes like apple crisp and apple pie.
Apple picking is a great family activity for the Fall so plan a trip and don t forget to take lots of pictures.