My Experience With Storybooth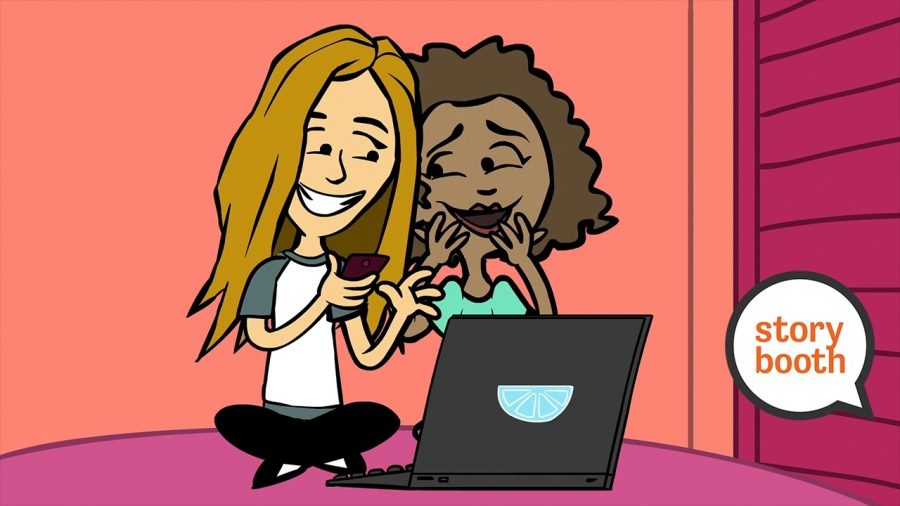 No matter who you are or where you're from, you have a story to tell. When you walk past students in the hallways at school or people on the sidewalk, they all have one thing in common: they have a story to tell.
In today's day and age, there are multiple platforms for people to express themselves and share their passions/stories with the world, such as YouTube, social media, newspapers, or even TV if you're lucky enough. However, most of those platforms mostly appeal to adults, leaving younger generations out of the loop. However, there is one YouTube channel that's dedicated to giving the new generation a voice: Storybooth. 
Co-founded in 2015 by married couple Josh and Marcy Sinel, Storybooth is an online platform that creates animated videos based on personal life stories submitted to them by children, teenagers, or even other YouTubers. The channel uses recordings submitted from actual people and animates the story based off of what the recording says.
The channel releases a new video every Tuesday. The topics of the story range from experience of heartbreak, overcoming challenges, being yourself, awkward and embarrassing situations, and friendship. Out of the thousands of recordings submitted to Storybooth, only a select few actually have their stories animated and published on Storybooth's YouTube channel and one of our Clarion writers is one of them: yours truly.
I came across Storybooth early in my Junior year scrolling through YouTube and I was immediately fixated on it. At the end of each of their videos, they posted a link to their website/app if anyone was interested in submitting a story of their own. I thought about the possibility of submitting my own story. At first I was hesitant, about after some consideration, I decided to go ahead with it. Once I found the perfect story to narrate, I wrote a script, made a recording, and submitted it. 
I waited anxiously to hear back from Storybooth and at one point I figured that they forgot about me altogether. However, one day,  I received an email and it was from none other than Storybooth. The email congratulated me and said that my story was selected to be animated on their channel. The email further stated that I needed parent/guardian permission and I needed to describe how I wanted my character to look in the video. Once all of that was taken care of, I got one final email telling me that my video would be released at the end of August. 
Fast forward to August 22, 2019, I was volunteering at the Boys & Girls Club and as I watched my group of kids at the Hawthorne Pool, I checked my phone and went onto Storybooth's channel and low and behold, my video was posted! I was filled with excitement as I burst through the door when I got home. I immediately made dinner, went onto my laptop, and watched my recording come to life. I loved every second of it and I shared the news with my family and friends. They all loved it too and they shared it with their friends as well. After three months of being posted, the video garnered over 1 million views!
I was so overcome with gratitude that I was able to share my story with the world and I have nobody to thank but the hardworking people at Storybooth! They do a fantastic job at bringing the recording you submit into its own little animated world. Some people who have had their stories submitted have been lucky enough to appear on the news as well, most notably on NBC's Today. I am so grateful for everyone that has given me feedback on what they thought about my video and hopefully somebody else in Hawthorne High School will share their story with the world as well.