This I Believe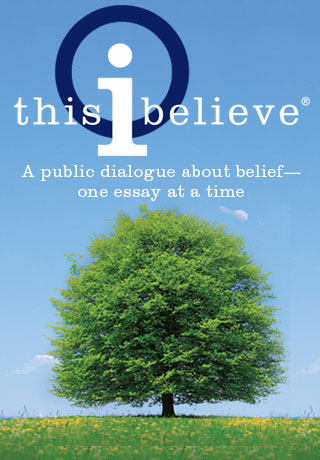 "This I Believe is an international organization engaging people in writing and sharing essays describing the core values that guide their daily lives. Over 125,000 of these essays, written by people from all walks of life, have been archived here on our website, heard on public radio, chronicled through our books, and featured in weekly podcasts. The project is based on the popular 1950s radio series of the same name hosted by Edward R. Murrow." – ThisIBelieve.org 
This I believe, is a movement that encourages people from all walks of life to write short essays about their own personal motivation in life and then post them online for others to read.
In writing, sharing, and discussing brief essays about the core values that guide their daily lives, it helps to broaden the spectrum of tolerance and acceptance people have by reading others' stories and how they learned to believe in something, themselves, religion, etc. and to overcome diversity in one form or another.
In reviving "This I Believe", executive producer Dan Gediman said, "The goal is not to persuade Americans to agree on the same beliefs. Rather, the hope is to encourage people to begin the much more difficult task of developing respect for beliefs different from their own."
In addition to the world taking its own personal liking to the idea of the movement, the educational world has as well. Teachers around the country and around the world have embraced "This I Believe" as a powerful educational tool.
These curricula help teachers guide students through exploring their beliefs and then composing personal essays about them. The students learn about themselves and their peers, and experience the delight of realizing their views and voices have value. With a society ostracizing our children, giving them a healthy and positive outlet for their emotions (as well as a resource for them to learn and how to cope) is crucial.
ThisIBelieve.org is exactly what this generation needs right now…it's completely free so it doesn't hurt to give it a try. No matter what, remember you're never alone and there's always helpful outlets to help you feel and stay safe, even if right now you don't believe in yourself, it's possible to change that and take control, and writing can be the first step.