How to Stay Safe During the Holidays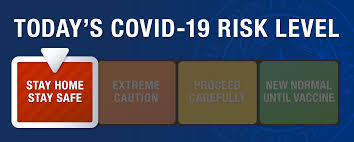 With the holidays getting closer, people are starting to wonder, what is this year going to be like? The holidays are by far the busiest time of year, especially when it comes to shopping and traveling, but with Covid-19 at its worst, it is important to be careful. Here are some ideas on how to safely celebrate during the pandemic:
Keep the gatherings small: The holidays allow people to reconnect with their family and friends who they might not have seen in a while, but minimizing the number of people that you celebrate with this year is one of the best ways to limit possible exposure to the virus. Remember to review your state's guidelines in case there are restrictions on the amount of people that can get together.
Be aware of who you are celebrating with: It's best if you are aware of how careful the people you are celebrating with are being. If you know that they have been taking precautions, like wearing masks, social distancing, and washing their hands often, you have less to worry about. If you know that one or more of your friends or relatives haven't been taking the pandemic as seriously, and they've been interacting with a lot of people or not wearing a mask, consider not celebrating with them. Otherwise, you should be extra careful around them or persuade them to take more precautions as the gathering gets closer.
Limit air travel: Many people look forward to traveling and seeing their friends and relatives for the holidays, but air travel has been one of the more dangerous things you can do during the pandemic. If air travel isn't a necessity this year, try to avoid it as best as possible. There are still ways that you can see can those who live farther away, especially since online communication has become so popular. If a guest that you invited had to take a plane to come, make sure to take extra precaution with them.
Take precautions during and before the gathering: It is especially important to wear a mask, practice social distancing, wash your hands, and limit social interaction if you are preparing to celebrate with people other than the ones you live with. You don't want to risk getting them sick by inviting them to your house, or by going to their house. During the gathering, you should also take precautions, especially if it is a bigger gathering. Try not to get too close to anyone and consider wearing masks when possible.
The holidays are one of the most exciting times of the year and just because this year will be much different, you can still celebrate and have a good time. By following these tips you can be responsible during the pandemic while also getting to spend time with your friends and family. Remember to stay safe and enjoy the holidays!