Thanksgiving Pie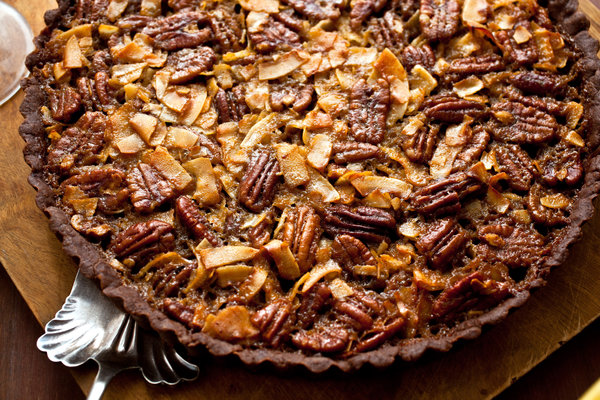 Though this year's Thanksgiving may be a little different than other years, it doesn't mean you can't enjoy it just as much.  Here is a dessert  you should try  with your loved ones this year. Pie is a must for Thanksgiving, but have you ever tried pecan, hazelnut, and coconut tart pie? 
The ingredients are simple to make: the crust, flour, confectioners sugar, cinnamon, and salt in a food processor until combined, 4 or 5 times. Add butter and pulse until roughly the size of peas, 8 to 10 times. Whisk together egg yolk and 2 teaspoons water in a bowl. Add to the flour mixture and pulse until combined, 6 to 8 times. Mixture will be crumbly, but hold together when squeezed. Press in the bottom and up sides of a 9 inch tart pan with a removable bottom. Freeze for 20 minutes. Don't forget to preheat your oven to   350°F. Bake until your delicious pie is golden brown,
Next, Increase oven temperature to 375°F. Sprinkle pecans, hazelnuts, and coconut over the crust. Combine brown sugar, honey, butter, cream, and salt in a small saucepan. Bring to a boil over medium-high heat and cook, stirring constantly, 1 minute. Pour over the nuts in the crust. Bake for 10 to 12 minutes, let it cool down, and enjoy this sweet dessert.