The Dangers of Blue Light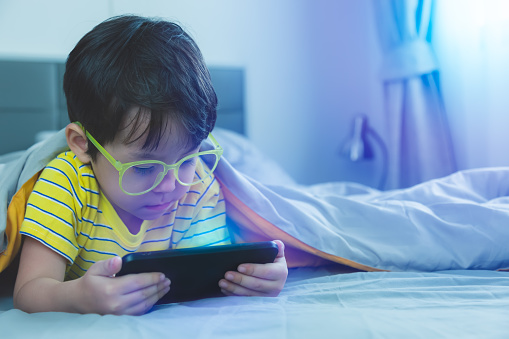 The invisible blue light is in every single one of your electronic devices, however for most electronics users the effects of it are not. Blue light can be harmful when used at night. But our overall exposure to the day or night can cause several effects. These effects include disruption of your sleep cycle, eye strain, and permanent eye damage. According to WebMD, " …the link between eye damage and short-wave blue light with wavelengths between 415 and 455 nanometers. Most of the light from the LEDs used in smartphones, TVs, and tablets has wavelengths between 400 and 490 nanometers." The blue light emitted from electronic screens are dangerously high. As a society that heavily relies on technology, here are some solutions to reduce blue light emissions to our bodies.
Firstly, most electronics now have a setting either called night light or night shift. With this effect, you can manually shift the screen color to a warmer tone, which lowers the amount of blue light emitted from your electronic device's screen. You can either schedule when you want to turn it on or off or turn it on and off manually. I recommend keeping it on all the time. It is suitable for your eyes day or night and causes fewer headaches, especially now when we are continually looking at our screens to go to school. Though blue light affects more at night, it still lingers in the day time.
Secondly, try investing in a pair of blue light glasses. Blue light glasses are like a pair of fake glasses, but instead of having clear lenses, they have lenses with a coating that blocks blue light. You can get these glasses almost anywhere, and they aren't expensive. I recommend using these glasses with some night shift mode on either way for the full effect.
Lastly, try to get off electronic devices at least 2-3 hours before bed and not use electronics when you don't have to. Though most of us are virtual right now or use some technology, we can limit our screen time to prevent lots of blue light emissions.
With all of these tips used together, your blue light emissions should go down, and you will be able to have less eye strain and even sleep better.