HHS Spanish Honors Society Festival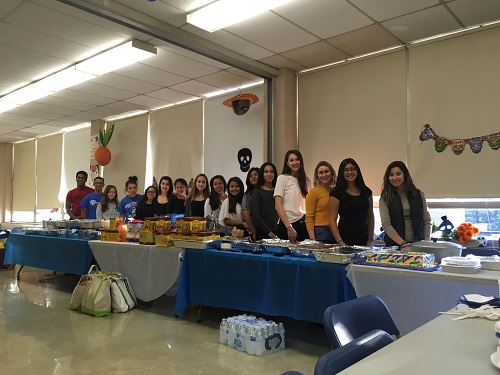 On Friday, October 28th, the Hawthorne High School Spanish Honor Society hosted a Hispanic Heritage Month festival. Included in the festival was a variety of food, music, and decorations.
Spanish Honor Society adviser, Mrs. Martinez, expressed the way she sees the Hispanic Heritage Month Festival to The Clarion. Martinez said, "The purpose of the festival is to provide a place where Hispanic students can gather and celebrate their heritage. Saying, we are Hispanics in America and we are proud. We decorate for various parts of the heritage, like Day of the Dead from Mexico, so there's no specific decorating. We also have foods from all different places, so people can experience new things. We also have Just Dance."
A Clarion Reporter asked student, Leah Rosado, about her experience with the Spanish Honor Society Festival. Rosado stated, "It was really hectic, but really fun…we sold a lot of food.  I'm very excited for next year."
HHS students and teachers attended the event, enjoying good food, music, and dancing. Everyone seemed to have a good time, and can't wait for the next festival.
Thank you to Mrs. Martinez, and all the students in the Spanish Honor Society that volunteered to serve food.