The 2016 Presidential Medal of Freedom Recipients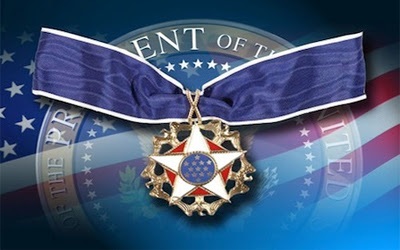 Hang on for a minute...we're trying to find some more stories you might like.
On November 16, President Obama announced the recipients of the Presidential Medal of Freedom award. This achievement is the nation's highest civilian award that is presented by the President of the United States. It recognizes individuals who have made a momentous contribution to the security or nation's interests of the United States. These contributions even include actions for world peace, or other significant objectives. The Presidential Medal of Freedom is not only awarded to U.S. citizens ,but can also be given to military personnel that would wear this on their uniform. These recipients will be awarded at the White House on November 22.
Numerous presidents had bestowed this award to various distinguished people. Some notable former presidents to hand out this award were Lyndon B. Johnson, Richard Nixon, Ronald Reagan, and George H. W. Bush.  Some distinct recipients are the Apollo 13 crew, religious humanitarian Mother Teresa, former United Kingdom Prime Minister Margaret Thatcher , former President Ronald Reagan, and R&B singer Arethra Franklin. There are a multitude of recipients of this year's Presidential Medal of Freedom. Here is a partial list of the well-known recipients who will be receiving this award:
Comedian/ TV Host: Ellen DeGeneres
Basketball Hall of Famer: Kareem Abdul-Jabbar
Basketball Hall of Famer: Michael Jordan
Broadcaster: Vin Scully
Actor: Robert De Niro
Actor: Tom Hanks
Actor: Robert Redford
Singer/Songwriter: Bruce Springsteen
Singer/Songwriter: Diana Ross