Cel-Earth-Bration: Taking Steps to Help the Community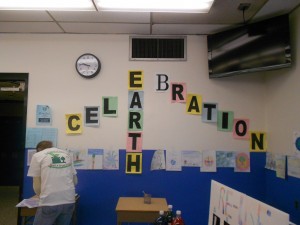 The 20th annual Cel-Earth-Bration, presented by the Hawthorne Environmental Commission, was held on April 21 at Hawthorne High School.
The center of this event was in the cafeteria. Tables were set up with arts and crafts for children, such as coloring, keychain making and magnet making. At other tables, children could enjoy face painting, tattoos and various games to raise money for the Lincoln Middle School Ecology Club, which will be donated to Raptor Trust, a wild bird rehabilitation center in New Jersey. At the back of the cafeteria, there was a timeline of past Cel-Earth-Bration events hanging on the wall.
Also in the cafeteria, there were projects made by students grades K-8 that reflected the "building a green future" concept. These projects were made out of recycled materials such as cardboard, bottles, and plastic bags.
Other organizations participated as well. The Hawthorne Environmental Commission/Green Team displayed the Hawthorne Green Map, which can be found by going to greenmap.org and searching Hawthorne. The NJ Clean Energy Program sold LED bulbs and compact fluorescent bulbs. Refreshments were provided by the Hawthorne Environmental Commission and the HHS Ecology Club. Free "dirt cake" was served and stainless steel water bottles were sold for $5.00 each.
The Hawthorne Recycling Center gave away "goodie bags." These bags included sustainable Jersey pins, recycling signs, Keep Earth Clean bracelets, seed packets, and pencils made out of denim and newspaper. Free "20th Annual Cel-Earth-Bration" tee-shirts were also available. Well Read New and Used Books sold books about the environment.
Activities were scheduled throughout the day. Dominic Rizzo from Rizzo's Reptile Discovery presented a reptile show. Rizzo showed animals such as an Asian Water Monitor, baby Spotted Turtles, a baby Walking Stick, a Chinchilla, a toad, a Caiman and a Burmese Python. Rizzo also talked to guests about "reduce, reuse and recycle" and focused on being environmentally friendly. "I picked up a dead snake off the side of the highway the other day and fed it to my Asian Water Monitor. I reused that snake. Perfect example of how reduce, reuse and recycle can be used in everyday life," said Rizzo.
Bill Ponder, a licensed Falconer, presented a Hawk Show. Ponder is one of the 150 licensed Falconers in New Jersey and works for Medieval Times. A Harris Hawk, a Gyr Falcon and a Lanner Falcon were the types of birds that Ponder brought in to show. The Lanner Falcon, Prudence, is the bird he uses in the shows for Medieval Times.
Another activity was the Shade Tree Walk, sponsored by the Hawthorne Shade Tree Commission. The guide, Stephen Schuckman, who is a member of the Shade Tree Commission, led the tour around Goffle Brook Park directly behind the high school. Some native trees that Schuckman pointed out were the Chokecherry, Pin Oak, American Ash, Mulberry, American Elm, Red Maple, Linden or Basswood, Honey Locus, Redbud, Sugar Maple, Black Locus and Japanese Maple. An invasive species of tree that Schuckman recognized was the Norway Maple. This tree is not native to the state of New Jersey. Deer do not eat this tree; therefore there are a lot of Norway Maples in this area instead of native trees.
The last event that took place was the award ceremony for the "build a greener  future" art projects. In the grades K-2 division, Emmalee Runs won 1st, Xavier Clavijo won 2nd and Grace Korpics and Sarah Giardino tied for 3rd. In the grades 3-5 division, Alexa Gassler came in 1st, Andrea Oliver and Anthony Mecka tied for 2nd and Ella Perini won 3rd. In the grades 6-8 division, Kristian Semmei and William Villabon won 1st, Sarah Bammel won 2nd, and Kayla Sweisberger came in 3rd. There was also a flower raffle held for the LMS Ecology club, also a cherry tree, donated by Rick Hockenberry Landscaping, was raffled off.
Community Shred Day was also held on this day at the high school. Hawthorne citizens could bring boxes of paper that they would like to have shredded. This was sponsored by Green Sky Industries. This company takes care of all of Hawthorne's recycling.
Rayna Laiosa, chairperson of the Hawthorne Environmental Commission and the environmental policy manager for PSE&G, said that this event was meant to "get everyone to be aware and involved. This event is a tie between the community, school and borough. You have to show people how to do it, plant the idea in their head for a greener community and that's exactly what this event does."