HHS Students Honored at VFW Award Ceremony
Sabrina Mohsin, Staff Writer
May 21, 2012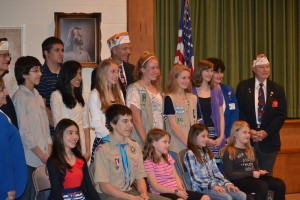 The William B. Mawhinney Veterans of Foreign Wars Post #1593 and its Ladies Auxiliary held an award ceremony on May 10, 2012 at the First Reformed Church in Hawthorne, NJ. Several participants including Hawthorne High School students gave speeches and received awards. The following students were honored:
Voice of Democracy: Sabrina Mohsin, Jenna Dyksen
Patriots' Pen: Emily Andrianov, Stephanie Hauer, Madison Herrera, Julian Parra
Eagle Scouts: Andrew Cruz, Edward Davies, John Homler
Girl Scouts: Danielle Hampson, Claudia Von Suskil
Outstanding Youth Volunteer: John Homler
Patriotic Art: Dana A. Martinez
Patriotic Poetry: Billy Brown
Locks of Love: Rebekah Gaehring
Power Paws Girls: Nicole Harden, Hazel Hinners, Cassandra Tucker
The Ladies Auxiliary to the Veterans of Foreign Wars was established in 1914 according to www.ladiesauxvfw.org. Members live by the saying, "Honor the dead by helping the living." This organization strives to show honor and respect for those who were and are serving our country. The students who were honored wrote, spoke, or performed something that displayed respect for our military.