HSPA Practice at HHS
Hang on for a minute...we're trying to find some more stories you might like.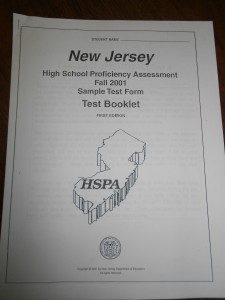 Junior students at Hawthorne High School took HSPA practice tests in December and January to prepare for the state-given test in March, 2012.
Juniors have had four practices in total: two in December and two in January. In December students took practice expository reading and writing tests. In January, students took the persuasive reading and writing sections of the test. The English teachers then read and score the tests to give their students an idea of how they would do on the real test.
"The juniors take the HSPA practice test to gauge how well they are doing thus far," said Kelly Clifford, Junior English teacher. "If a class isn't performing well, then the teacher knows that they need to practice more often in class to help them prepare the students for the March test."
"The phrase HSPA stands for High School Proficiency Assessment," Clifford said. The New Jersey Department of Education explains that "the HSPA is a state test given to students in the eleventh grade to measure whether they have gained the knowledge and skills identified in the Core Curriculum Content Standards."