HHS Students Win The Voice of Democracy Competition
The first-place winner of the Voice of Democracy competition in Hawthorne High School was senior Sabrina Mo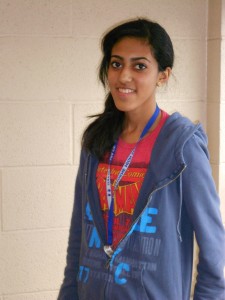 hsin and the second place winner was Jenna Dyksen. This competition took place in November within private, public, and home schools all across the country in order to give students the opportunity to receive scholarship money and possibly win a trip to Washington DC.
 The competition is sponsored by the Veterans of Foreign Wars. Each year a different patriotic theme is provided for students to write an essay about. This year the theme was Is there pride serving in our military? "It felt good winning," said Mohsin. "I enjoyed writing about the topic of patriotism, and winning was an honorable thing."
The contestants of the Voice of Democracy competition are required to write an essay that is then recorded on a CD or a cassette tape. The essay must be turned into a 3- to 5-minute speech. This speech has to be clear and students may use only their own voice. They are not allowed to sing, make it into a poem, or use extra effects. Both the written version and the recoded version must be submitted.
There are four levels to this competition. These levels are local, district, state, and national. The state winners are awarded an all-expense paid trip to Washington D.C. to be honored, and other winners could potentially win a $30,000 scholarship.
The Voice of Democracy Competition began in 1947. This year, over 50,000 students participated  in it. Carol Denise, coordinator of the HHS enrichment program, said, "The Voice of Democracy competition is a program that the high school has been doing for 20 years and will continue to do. I think it is a great way for our students to express their patriotic feelings."
The theme for next year's Voice of Democracy competition will be announced in February.