HHS at Lincoln Center NYC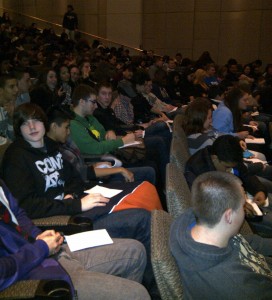 Alyssa Schlossberg's sophomore English class of Hawthorne High School toured Lincoln Center and attended a poetry slam in New York City on January 12, 2012.
Lincoln Center is a non-profit organization that is home to about 100 of the world's best musicians in the New York Philharmonic.  The Philharmonic is currently conducted by Allen Gilbert.  HHS students were given the opportunity to hear a few moments of the orchestra's rehearsal.
"I thought they were incredible, how the orchestra was all together and sounded perfect," said Alexa Dichio, sophomore at HHS. "It was an amazing experience!"
Students who heard the orchestra were amazed at what power the musicians can have over their audience.  They also would have liked to listen more but had to continue the tour.
"It was so peaceful being able to sit and listen to them, I didn't want to leave," said Dichio.
During the tour the students were taken to the Metropolitan Opera building.  Students then visited the Vivian Beaumont Theater.  The theater seats about 1,000 people and performs the same show, but each show is only performed a limited amount of time before a new show takes its' place.  The performance that would take place that evening would be the play "War Horse."
Since Lincoln Center is a non-profit organization, they rely on generous donations and their buildings have been named after people who have donated to Lincoln Center.
After touring Lincoln Center, students attended a poetry slam called Slam102.  Slam 102 gave students another perspective on poetry by making the program interactive with the students.  The school scored each performer's poetry throughout the show and then totaled the scores to see which of the three performers won.
"I thought it was going to be an event where they would read William Shakespeare type of poetry," said Chris Siracusa, sophomore of HHS. "After seeing it, I thought it was really cool, and it gave me a new perspective on poetry."