Video Editor Visits Journalism Class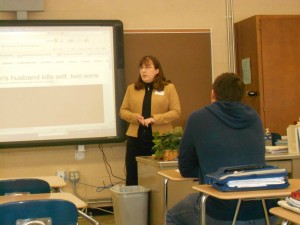 Lisa Crifasi, a video editor for FOX News, recently visited Theresa DiGeronimo's journalism class at Hawthorne High School (HHS) to give the young journalists advice on how to increase their skills in video editing.
Crifasi, a former student of DiGeronimo at William Paterson University, has edited many videos for FOX News. She taught students tips and tricks such as easy-to-use programs and the time required to perfect and edit videos for public viewing. "Profanity that slips through in a video can get you fired," Crifasi told the students. The use of profanity in a video can ruin an editor's career therefore making it vital to pay attention to detail when editing.
Most students now feel that they have a stronger grip on the idea of video editing and the importance of editing. "Lisa was great," said Mahin Chowdhury, a student in the journalism class. "She really gave some good tips that can be helpful in the future."
Between her guidelines of video editing, Crifasi gave examples of different situations with editing and publishing a video; she also mentioned as well as the lack of credit given to the behind-the-scene video editors. "Thirty seconds of footage can take up to an hour of hard work and editing," Crifasi explained to the students.
Crifasi's visit makes students feel more comfortable with video editing. Some of the students may decide to become video editors for news stations like FOX News. Crifasi's visit makes this career objective a realistic possibility.