Journalism Class Launches The Clarion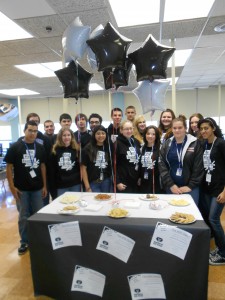 The Hawthorne High School Journalism class launched the school's first online newspaper, The Clarion, on February 28, 2012 in the Library Media Center. The class celebrated the event by inviting all students and teachers to the Media center during the day to view the newspaper online.
The third period students that came to see The Clarion watched how the journalism class put articles onto the website. On the Promethean Board, visiting students saw the behind-the-scenes creation of a sports article. Using the website dashboard, the article was created, input, tagged, and published.
To celebrate the launch, there was a festive day with balloons, t-shirts, music, and food. The HHS Clarion staff was in the Media Center to guide students and teachers to the site and to answer questions.
"I really liked the newspaper because it's a way for me to keep updated on what's going on in our school," said Richard Christensen, sophomore at HHS.
Students and teachers were also able to look at past Clarion newspapers. Some of the newspapers go as far back as 1935. These papers gave the HHS community an opportunity to see the progress that The Clarion newspaper made through time and also to see the history of HHS.