National Honor Society Gold Tassel Dinner
Hang on for a minute...we're trying to find some more stories you might like.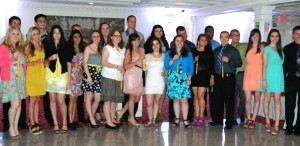 The HHS National Honor Society Gold Tassel Dinner was held on May 3, 2012 at The Tides Restaurant in North Haledon, NJ. Senior NHS members were given gold tassels and were recognized for their hard work.
Kelly Clifford, the NHS advisor, along with Board of Education President Michele Hyams, Vice President Elaine Tolomeo, and board members Burton Alkes, Abigail Goff and Robert Maggio, were at the dinner to watch members receive their tassels and receive "honor and pride for their accomplishments" as Clifford said. The junior NHS council also attended the dinner beside the senior NHS council. Senior members who received gold tassels will be able to wear their tassels on graduation day in June.
Clifford was proud to watch the members receive their tassels. "This dinner is a celebration for the seniors to enjoy. They have accomplished so much in their four years here at Hawthorne and this night gives them the opportunity to enjoy their success. This evening also is about reflection and thanking those people in their lives that have helped them, encouraged them, and challenged them to always do their best."