Youth Night at the Municipal Building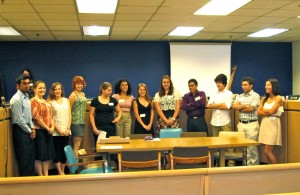 On Wednesday May 30 2012 twelve students were chosen to participate in this year's Youth Night with the Hawthorne Board of Education. Students were assigned to a counterpart member of the Board. Participating students were: Erica Milbrook, Danial Qureshi, Hayley Hyams, Mahin Chowdhury, Yazeed Atieh, Melissa Pilar, Jessica Chamberland, Alyson La Spisa, Rebecca VanDerWerf, Renee Buchanan, Mackenzie Sanint, and Steven Prieto. The event started off with a few of the selected students taking a trip to the municipal building during the day to meet their counterparts. Later that night, those students plus the rest of the participants and all of the Board members, met at the high school and proceeded to have dinner in the all-purpose room.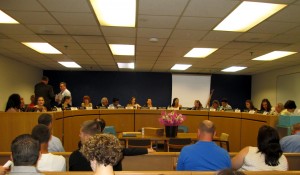 After dinner, the board members and students met back at the municipal building to partake in the regularly scheduled Board of Education meeting. There, the students represented as well as spoke for their counterparts. At the meeting, school facility members, athletes, and coaches were honored for their hard work. Resolutions and problems dealing with the school board were also discussed. As the meeting was adjourned, the Board members and students took a group picture and said their goodbyes after a night of learning and fun.