Read Out! to Celebrate Reading
Sarah Kearsley, HHS News Editor
October 9, 2012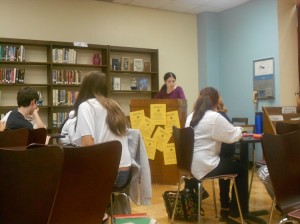 Each year, many books are banned throughout schools, bookstores and libraries all across the nation for various reasons. This still happens, despite the creation of Banned Books Week in 1982. HHS Library Media Center and the Creative Writing Club celebrated the right to read during this national week called Read Out!
Those who try to ban books feel it is important to protect children from explicit content. This content consists of things such as sexual or offensive language, racism, insensitivity, religious viewpoints, etc. Although those who try to ban books do it with truly good intentions, others feel that no one should tell others what they can or cannot read. These people believe that exposing children and students to all types of literature can greatly increase their education and understanding. Also, banning books does not allow freedom of expression and allow readers to make their own decisions.
According to bannedbooksweek.org, 11,300 books have been challenged since 1982. This website also reported the 10 most challenged books in the nation as of 2011: ttyl, ttfn; l8r, g8r; The Color of Earth; The Hunger Games; My Mom's Having a Baby! A Kids Month-By-Month Guide to Pregnancy; The Absolutely True Diary of a Part-Time Indian; Alice; Brave New World; What My Mother Doesn't Know; Gossip Girl; and To Kill a Mockingbird.
Banned Books Week was created in 1982 as the national book communities "celebration of the freedom to read," as stated on bannedbooksweek.org. Banned Books Week also encourages schools, libraries, and bookstores to bring attention to the censorship problem that our nation has. Throughout this one week, various events are hosted within libraries and bookstores. This year, Banned Books Week began on September 30 and lasted through October 6. On Wednesday, October 3, Hawthorne High School students were able to participate in the celebration in the Library Media Center. Organized by club advisors Theresa DiGeronimo and Joe Verdon, students were able to share their opinions on certain pieces of banned literature. Theresa Digeronimo told the group of 20 students who joined the event: "We are about to join the national Read Out! event by speaking out loud words that others have tried to keep quiet. By giving these words the freedom to be heard, we celebrate the freedoms we treasure as American citizens."
Each year Banned Books Week gains more support throughout the nation in expressing the freedom of reading. This event to end the banning of books becomes closer and closer to success each year.