Hawthorne's Annual Santa Parade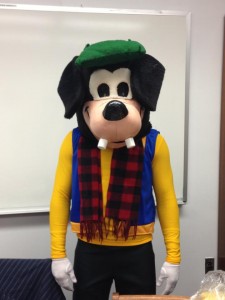 Students from Hawthorne High School participated in the annual Santa Parade by dressing up as characters.  Julio Aybar, sophomore at Hawthorne High School, first dressed as Mickey Mouse but then traded in his costume to be one of Santa's Elves.   Senior, Vania Rivera, also was one of Santa's Elves.  Another character, Goofy, was portrayed by senior, Ethan Ramos.
"My experience in the parade was very memorable," said Aybar. "I brought cheer and spirit to little kids."  Aybar loved volunteering in the parade and can't wait until next year.  "I got to take pictures with the kids and give them little gifts like coloring books," said Rivera. "Volunteering one Saturday night out of the month is worth it to see the kids' smiles."  Both Aybar and Rivera agreed that volunteering their time out of their busy schedule is well worth it and both would jump at the opportunity to do it again.
The Santa Parade featured, the mayor and the Council, Hawthorne High School's band and cheerleaders, Hawthorne Ambulance Corp. , Hawthorne School of Dance, Hawthorne Cubs, Girl Scouts and Boy Scouts.  Hawthorne rec football and soccer teams each had their own floats.  The parade also featured the Passaic County Sheriff's Department, the Hawthorne Caballeros, and Santa.
The  annual Santa Parade in Hawthorne was rescheduled from November 30th to Saturday, December 1st at 6:30 p.m.  The Santa Parade and tree lighting took place at Borough Hall in Hawthorne, along  with new features such as: Santa at the Louis Bay 2nd Library for pictures while Mrs. Clause read stories to children, the chance to do some holiday shopping at Vendor Lane along Grand Avenue, a DJ, and Toys for Tots collection.