The Hoagie Returns to School Lunches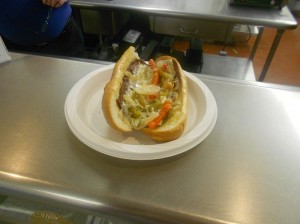 After its annual State Agency Meeting on December 7, 2012, the United States Department of Agriculture (USDA) announced that it will eliminate the maximums for grains and proteins in school lunches for the rest of the 2012-2013 school year.
            The USDA decided to make this change due to all the complaints that they were receiving from parents and senators about students coming home from school hungry. Pomptonian Food Service, who service the Hawthorne school district, changed the middle and high school meals back to their original portions on Wednesday, December 12, 2012. Pomptonian worked with their suppliers to allow this change to take effect immediately. The meals served by Pomptonian still include a variety of fresh fruits and fresh vegetables; however, they now include larger amounts of proteins and grains.
Judy DeKnight, Food Service Director of Pomptonian Food Services in Hawthorne, said about the new change, "I love it. We're here to serve everybody. We don't want to serve things that people don't like. We are always open to suggestions if a student doesn't like what we are serving."
Although these changes have been made for the 2012-2013 school year, the USDA is still determining what they are going to do about the school lunch requirements for the next school year.