A Bubble Wrap Record at HHS
Johnbek Sagdic, and Clarion Staff Photo by Johnbek Sagdic
January 30, 2013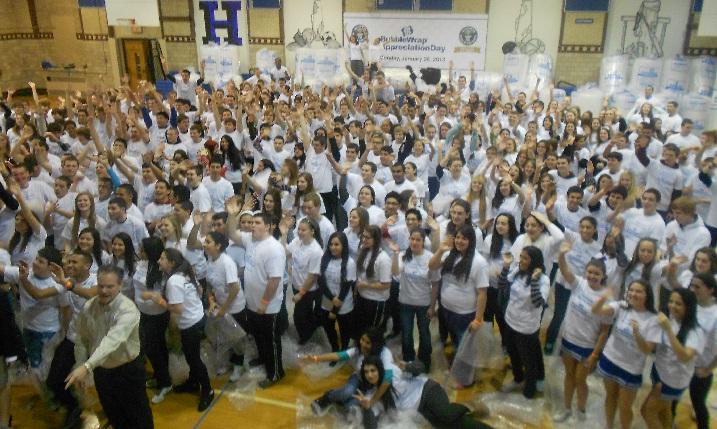 Students, faculty and staff entered the Hawthorne High School gymnasium on Monday, January 28, 2012, picked up their "Guinness World Record" tee-shirts and ear plugs as they began two frenzied minutes of Bubble Wrap popping to set the world record for "the most people popping Bubble Wrap at one time." The fun, excitement and noise was all for a good cause; the 366 participants each paid $3 that has now been donated to the United Way of Western Connecticut, who, in partnership with Newtown Savings Bank, has created the Sandy Hook School Support Fund that will provide support services to the families and community that have been affected by the tragic school shooting in December.
On hand, as participants popped 8,000 square feet of the packaging material, were a number of news outlets including the Associated Press. By the end of the day, Hawthorne's event went viral worldwide. The story appeared on outlets such as Yahoo! AOL, The Today Show, CNBC, MSN, The Huffington Post, The Washington Post and even The Himalayan Times.
Kimberly Partrick, an official Guinness World Record Adjudicator, and Rohn Shellenberger, Business Manager at Sealed Air were also present to celebrate the accomplishment.
Hawthorne has a special connection with Bubble Wrap. Bubble Wrap  was created in 1957 in the garage of two engineers, Marc Chavannes and Al Fielding, right here in Hawthorne, New Jersey. The two men tried to create something else entirely but ended up realizing the material they had just made was ideal for secure packaging.
To celebrate the 50-year anniversary of this product, Sealed Air, the makers of the Bubble Wrap brand, will for one day manufacture only gold Bubble Wrap. According to Newjerseynewsroom.com, William V. Hickey, President and CEO of Sealed Air said, "We are thrilled to have the golden opportunity to celebrate 50 years of our hallmark brand, Bubble Wrap." The creation of Bubble Wrap led to the birth of Sealed Air, a company that owns the trademark. Sealed Air creates enough Bubble Wrap every year to stretch to the moon and back. Bubble Wrap has become so famous that it now has over two million Facebook fans and Sealed Air has annual revenue of over $4 billion.
Video of the event can be seen at http://video.today.msnbc.msn.com/today/50626667#50626667